Is the Truth Movement Controlled Opposition?
March 1, 2012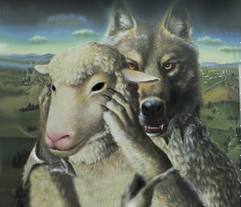 Mike Phillips argues that
much of the alternative media
is "simulated opposition."
by Mike Phillips
(henrymakow.com)
The comment by Jeff Rense's 9th Ex-Wife Megan
caught my eye,
"For all you who wonder is Jeff Cointelpro??? No, Jeff Rense is controlled by no one. He is a lone nutter."
It is possible that Rense is BOTH a lone nutter and controlled opposition.
This is not to be confused with Cointelpro, which was an FBI operation to infiltrate domestic political organizations. Rense is clearly not Cointelpro.
My purpose is to examine the media in light of the principles outlined in the
Protocols of Zion.
Protocol 12, states:
"WE SHALL SET UP OUR OWN OPPOSITION PRESS WHICH WILL PRESENT WHAT LOOKS LIKE THE VERY ANTITHESIS TO US. OUR REAL OPPONENTS AT HEART WILL ACCEPT THIS SIMULATED OPPOSITION TO US AND SHOW US THEIR CARDS."
They conceive of the media in three tiers. The top tier, would be things like NBC news with Brian Williams, magazines like TIME & Newsweek.
CACOPHONY
CREATING CONFUSION
In the second tier would be the vast number of magazines, TV and radio shows, internet sites and books which present an enormous range of views. The object here is confusion.
IN ORDER TO PUT PUBLIC OPINION INTO OUR HANDS WE MUST BRING IT INTO A STATE OF BEWILDERMENT BY GIVING EXPRESSION FROM ALL SIDES TO SO MANY CONTRADICTORY OPINIONS AND FOR SUCH LENGTH OF TIME AS WILL SUFFICE TO MAKE THE "GOYIM" LOSE THEIR HEADS IN THE LABYRINTH AND COME TO SEE THAT THE BEST THING IS TO HAVE NO OPINION OF ANY KIND IN MATTERS POLITICAL, WHICH IT IS NOT GIVEN TO THE PUBLIC TO UNDERSTAND BECAUSE THEY ARE UNDERSTOOD ONLY BY HIM WHO GUIDES THE PUBLIC.THIS IS THE FIRST SECRET.

(PROTOCOL 5)
Considering the average American, you'd have to say this part works. Here you have the Shawn Hannities, Rush Limbaughs, Matt Drudges, etc.
The third tier consists of more obscure radio programs and internet sites, is where you find controlled opposition. Here they allow viewpoints counter to their interest. They do this to track dissent. Thus a Ron Paul gets lots of attention from the internet, but not NBC News.
All three tiers are controlled, but not directly. On the first tier, when a Helen Thomas or a Rick Sanchez crosses the line, they are removed. This sends the message to everyone else who is making a fine living in the first tier media. Promote their interests or be fired.
Likewise, on the third tier, when a William Cooper, Fritz Springmeier or an Edgar Steele crosses the line, he might find himself dead or in jail on trumped up charges. This sends a message to a Jeff Rense who is making 400K per year and living in luxury. That's how he is controlled, not by anyone directly telling him what to say or do.
Jeff Rense is allowed to go so far and no further. If he were to make a mistake and cross the line (and he might not be exactly sure where that line is) eliminating him would be no loss for those at the top. After all, he is presenting information contrary to their interests. Someone else can easily be allowed to do that.
MAKOW CONTROLLED OPPOSITION TOO?
So, if you realize this, you will understand that all the so called "Truth Movement" is controlled opposition. This means that even Henry Makow is controlled opposition, but in this sense: if he goes beyond whatever line they set, steps will be taken to limit or eliminate his access to the internet. Right now he is being de-linked by a number of the more "mainstream" so called truth sites, in bed with Jeff Rense, such as David Icke.com.
There are two possible reasons for this. One, Fukushima. Virtually none of the so called "truth sites" are addressing this issue. When you understand who is trying to control the world, it's not hard so see why this would be a hot issue.
Two, he attacked Jeff Rense. Rense is exactly what they are looking for in a fake "truth site." He does present some truth issues, but his site is carefully designed to appeal only to those who already understand these issues, while at the same time driving off anyone with an open mind who might stumble by.
Since his site has everything from flying saucers to screwballs like Paul Drocton, it's the perfect place to present truth in a context where it won't be readily accepted. This is exactly what they want, which is to attract the opposition in order to keep track of it, without promoting it.
Rense will be protected. He's the controlled opposition they want. The few truths he presents don't worry them.
In many ways, he and his loyal confederate Icke are entertainers and fits with their plan to distract the public with talk of ETs, space ships and reptiles:
"In order that the masses themselves may not guess what they are about WE FURTHER DISTRACT THEM WITH AMUSEMENTS, GAMES, PASTIMES, PASSIONS, PEOPLE'S PALACES... SOON WE SHALL BEGIN THROUGH THE PRESS TO PROPOSE COMPETITIONS IN ART, IN SPORT OF ALL KINDS: these interests will finally distract their minds from questions in which we should find ourselves compelled to oppose them. Growing more and more disaccustomed to reflect and form any opinions of their own, people will begin to talk in the same tone as we, because we alone shall be offering them new directions for thought . . . of course through such persons as will not be suspected of solidarity with us." (Protocol 13)

----
(Makow Note: I am not controlled at all but I respect Mike's right to say what he pleases. I recognize that denying the holocaust or "blaming the Jews" is the line, but I wouldn't anyway. The Jewish holocaust took place and it's bad taste to deny it. The two world wars were primarily Christian holocausts. More than 80 million mostly Christians died. I blame the Illuminati central bankers for the world's woes. They manipulate everyone, including most Jews.)


How to Recognize Controlled Opposition (Note Makow not on list.)