Asian Porn Symptom of Age-Old Gender Dysfunction
March 25, 2012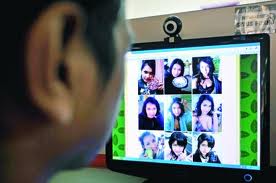 Japanese pornography expresses "a core of anger
and self-hatred in Japanese society, with respect to
gender relations and sexuality in general."by Aspen
(henrymakow.com
)
Taiwan
-
The proliferation of Asian porn is
a symptom of gender dysfunction more than its cause.
Asian pornography feeds on centuries-old habits of characterizing women as subhuman. The truth is that Asian men have been and continue to be utterly rotten towards women.
THE PORN INDUSTRY
Asian males have been driving the porn market to unbelievable extremes.
Asian porn businesses are the most successful globally. The annual $70-billion-plus porn revenues of China, Japan, and South Korea account for around 75% of the industry's sales worldwide. South Korean men top the list, spending nearly three times more on pornography than the closest competitor, Japan.
JAPANESE PORNOGRAPHY
The pervasiveness of pornography in Japan would shock most Westerners. The defining ethic of Japanese porn is the humiliation and debasement of all that is female.
Let the namesake website, www.bukkake.com, speak for itself:
"Legend has it that in ancient Japan, women who were found to be unfaithful were publicly humiliated in the town center by being tied up while every man in town ejaculated all over her to show his distaste.... although many feel that the practice of bukkake is shameful and degrading to women, it must be remembered that bukkake may have originated as a form of punishment (writer's note: which makes it okay, right?).... By the late 90's, it had evolved into its own [film] genre. Gay men began to experiment with the practice in ritual initiation ceremonies. American and European filmmakers were quick to follow the Japanese lead, adding their trademark stylish flow along with a line of willing porn starlets who were ready to be covered in [sic] cum."
Here we find initial indicators of a core of anger and self-hatred in Japanese society, with respect to gender relations and sexuality in general. This applies to homosexuality as well.
TENTACLE PORNOGRAPHY
Descriptions of the rape of women by tentacled beings, possessing multiple limbs operating as raping devices, dates back as far as the early 1800's, in Japan.
An article available on Wikipedia states,
"Tentacle erotica can be of a consensual nature, but frequently has elements of non-consensual sex...with tentacled creatures (usually fictional monsters) having sexual intercourse with female characters. Tentacle rape...is popular enough in Japan that it is occasionally even the subject of parody."
We find here the Asian male tendency to view women as objects, not only to be used, but to be enveloped within a machinery of male hostility towards their very being. Women are meant to be consumed, controlled, and digested.
HENTAI PORNOGRAPHY
The Japanese are devoted to their animated, comic book, and computer game pornography.
No holds are barred in this broad genre. Whereas genitals are digitally blotted out in live video releases, here nothing is sacred. Children are portrayed violently raped...but secretly enjoying it.
Women are portrayed as suffering...but willing subjects of the most abject humiliations. The most pervasive emotions to be found in hentai porn are anger, impatience, and the illusion of power over a helpless sexual object.
CHILD PORNOGRAPHY
Up until stricter child pornography laws were instituted in 1998-99, Japan served as the most prolific source of child porn production and distribution.
POPULAR SUB-GENRES OF JAPANESE PORNOGRAPHY
-- injured / hospitalized girls or women who cannot physically fight being raped
-- anonymous groping
-- "up-skirt" photos
-- hidden bathroom cameras
-- collecting, smelling, and tasting girls' underwear, socks, clothing, and urine
-- young male submission to sexual advances by mothers and sisters
WOMEN ARE TOYS AND MACHINES
In 2011, a Canada-based Asian male named Le Trung announced that he had created a female robot companion named Aiko.
"Le said: 'Aiko is what happens when science meets beauty.... Her software could be redesigned to simulate her having an orgasm.... Aiko doesn't need holidays, food or rest, and will work almost 24 hours a day. She is the perfect woman."
He may be right. Robot females won't scream while being raped. But they could be programmed to, if that what a depraved male wants.
SOCIETAL EFFECTS OF ABUSE
Pornography has wreaked something near to havoc in Japan and South Korea where access to digital porn and pornography in general has had more time to develop.
In Japan, the statistics are dire. Young-to-middle-aged adults have for some time reported a dwindling interest even in the formation of basic dating relationships, much less marriage and reproduction.
Many married Japanese men do not hesitate to have mistresses, or to visit prostitutes.
In South Korea, a population of less than 50 million spends almost exactly the same amount on porn, in total, as the Chinese population of 1.3 billion.
Marriage statistics remain more or less normal -- yet, this is not because men and women are forming healthy relationships.
On the contrary, Korean "marriage" tends to be a formal affair involving arranged pairings according to social and economic status. Frequent use of prostitutes and alcohol is ubiquitous, and is not only accepted but expected especially in the business world.
In both Japan and Taiwan, the phenomenon of the "Love Motel", where men meet prostitutes and mistresses, has become so prevalent that it's a schoolyard joke amongst youths.
CULTURAL IMBALANCES: EXTREME GENDER ROLE DISRUPTIONS
The immense success of porn and sex abuse in Asia reflects fundamental imbalance in gender relations that go much deeper than the need for sexual stimulation.
Asian cultural traditions have long maintained a violent hierarchical divide between the sexes. Traditional Asian heterosexual relationships do NOT believe that men and women are called to form relationships of love and cooperation.
The dominant male role requires that women be divided into two camps: the closely-controlled Virginal Wife and Mother; or the Whore. The Wife / Mother provides the public spectacle of stability, respectability, and success.
The Whore -- whether she be flesh-and-blood, or electronic -- addresses the sexual instinct in a manner which is quite obviously intended to be exactly what it is: licentious, free-wheeling...and immune to censure, because it's shared amongst buddies.
Meanwhile, as Asian females have gained professional and economic independence, they naturally have chosen more and more to avoid becoming entangled in marriage arrangements.
They remember their fathers who were not only dominant and controlling of their mothers, but blindly and violently so.
In both Japan and Taiwan, a longtime tradition-based history of ultra-chauvinistic fathers has affected not only women, but men as well.
The most recent generation of young men in Japan, for example, has produced a specialized class of young men labeled "herbivores": herbivores avoid meat, sex, intense exercise, and women.
They grow up thin, weak, timid, homosexual or bisexual, and they hope to be anything but what their fathers may have been.
Japan has a birth rate of just 1.37 children per woman, when 2.2 is necessary to sustain the population. This is roughly half the rate in 1971. Japan has the highest percentage of people age 65 and over in the world (23%.) In 2010, 1/3 of Japanese women in their 30's were unmarried.
Japan boasts a suicide rate that is among the top ten. It is the leading cause of death of males between the ages of 20 and 44.
---
Aspen replies to Ken Adachi (in comments below)
Mr. Adachi,

You wrote, "I would like to know which web site this person claims to show children engaged in porn as child porn is as much a crime in Japan as it is here."
This statement must be answered in two parts.
First, "child porn" is not anywhere near "as much a crime" in Japan as it is in America. Anyone who has followed, or been involved with, the legal history of Japanese child porn legislation would know that Japan's current child porn laws (such as they are) were enacted for the sole reason of intense external (meaning, international and diplomatic) pressure.
For your consideration:
"JAPAN CRACKS DOWN ON CHILD PORNOGRAPHY
"February 6, 2008
"TOKYO: Japan's ruling party plans to ban possession of child pornography after pressure from Washington to fall in with industrialised countries that have stepped up the fight against sexual exploitation of children. The production and distribution of obscene images of people under 18 has been illegal since 1999, but there is no law banning individuals from possessing such material." [
http://www.smh.com.au/articles/2008/02/25/1203788248226.html
]
"JAPAN UNDER PRESSURE TO CLAMP DOWN ON CHILD PORNOGRAPHY
"Monday 11 May 2009
As it remains, in Japan, mere possession of child pornography is a big grey area. Denial of this fact is impossible to support.
"
Tokyo
has yet to review any of the laws currently in place making simple possession of child pornography legal in Japan, or more specifically the lack of laws punishing simple possession without the additional criteria of distribution." [
http://en.wikipedia.org/wiki/Child_pornography_laws_in_Japan
]
Second, as to the availability of websites featuring young girls being raped explicitly and viciously in anime (cartoon) form, I do not expect that Dr. Makow would readily publish the URLs, even if I were able to provide them to you. Fortunately (or not), I don't need to provide any secret or special web addresses, because the aforementioned material is easily discovered on the Japanese branch of Amazon.com. Also another Japanese site, similar to Amazon, and very popular, called Rakuten.
Yep. It's all there on Amazon. Little girls being raped. Otherwise, versions of "soft" photographic Japanese child porn appear to operate from websites based in Tuvalu, Russia, etc.
I do not know what to make of statements such as, "If anything, Japanese men are controlled by their women", except to conclude that you are being deliberately sarcastic, and you do not live in Japan.