What's With Jewish Comics & Girl's Genitals?
February 3, 2010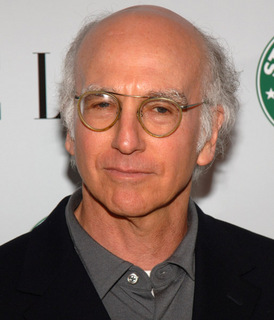 by Henry Makow Ph.D.Larry David has a rash.
He tells the doctor he has been "seeing" a nine-year-old girl who has a "rash on her [genitals]."
"You know, we hugged..."
The doctor excuses himself and tells his receptionist to call the police.
The episode ends. I don't know what happens in the next episode.
The child is the daughter of an employee. You can
watch the whole thing here.
Is this what comedy has come to? Sixty-two-year old men talking about a little girl's genital rash?
A grown man who doesn't understand how this looks to the doctor?
A mother
who mentions the ailment to her boss? (Is she pimping her daughter?) Is this normal or healthy? Is it funny?
Because David is a comic genius, nobody has the cojones to tell him that pedophilia is not a laughing matter. As you'll see in the clip, Jerry Seinfeld is speechless.
A little girl's genitals are not up for discussion on TV. When it is, pedophilia is
not far behind.
I enjoy watching David's show,
"Curb Your Enthusiasm."
I like watching a self-centered, neurotic Jew satirize himself.
But part of my interest is the lapses in taste and judgment. It's like watching a train wreck.
BACKGROUND
When we last met Larry, he was
insulting millions of Christians
. He had a problem with his wiener and pissed all over a portrait of Jesus Christ, incongruously placed on the bathroom wall. His Christian employee interpreted the urine as tears and prayed before the "miracle."
Larry David was unapologetic. He's a Jew and some Jews have been pissing on Christ for a while. This is symbolic of a long-term attack on Christian culture and civilization, a "iconoclastic" need to challenge and destroy society and all civilized norms. This originates from the Sabbatean-Frankist Jewish heresy of the 17th & 18th centuries, a satanic movement which spawned the Illuminati, Communism,
Hitler and the holocaust.
Sabbatean-Frankists indulged in every form of sexual deviance (incest, adultery, pedophilia) in order to manifest their contempt for God. Their descendants are behind the so-called "sexual liberation" movement. Most Jews don't realize how their people have been subverted by Satanists. This subversion has spread to many other religions, groups and to society as a whole.
THE NEW FUNNY
As you know, David and many other comedians have expanded their repertoire to pissing on any form of morality, decency or decorum. They equate being offensive and disgusting with being funny.
Judd Apatow, another Jewish comic and writer, talks about his daughter's vagina in public. And then there's Woody Allen...What is their fascination? Is it incestuous? Do they suffer from some form of arrested development?
They spread their depraved sensibility to their moronic audiences who seem to lap it up. Some people thought the video clip was "hysterical."
Only one person was outraged: "Morons! Are you enjoying it? The bastard speaks about a 9-year old in this kind of sexual terms? And gets away with it!! Why is this guy not in jail?"
This is how some Illuminati Jews have been moving the goalposts for centuries in the name of "freedom.". This is how the Illuminati-controlled media establish new satanic norms. This is why anti-Semitism is endemic.
All Jews suffer from the actions of a comparative few. They need to speak up or be identified with the Illuminati Jews. Anti-Semitism is not an irrational sickness of gentiles. It's caused by Jews like Larry David.
----------
Anti Gentile Comedianne Sandra Bernhard