Pothead says Marijuana is a Trap
April 12, 2011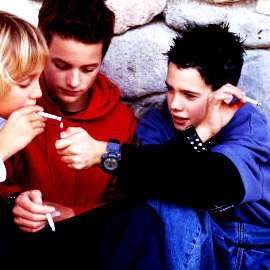 Now, everyone is smoking pot. Medical students, young lawyers, bus drivers, small business owners and even family men. At the same time, you see more and more people with psychological problems like paranoia and panic attacks. You see more people with depression in their twenties.by Tavo Padilla
(for henrymakow,com) Marihuana is a dangerous trap.
I should know, I have been a pothead for over 6 years now.
Throughout the years, I have seen the effects of my trips change. I first got high when I was 15, in sophomore year. Everyone was doing it and I was always interested in trying it.
I remember taking a huge hit and thinking "it doesn't work on me". Ten minutes later my vision started to slow down, as if I was watching everything thru an old video lens, frame by frame. We got really, really hungry and decided to go to
In n' Out
.
We couldn't even order because we were laughing so damn hard; I even decided to go eat outside by myself because I was tripping so hard. My first experience was great. I bonded with my friends because we all smoked weed and it was a NEW reality. Everything was enhanced. Music, movies, walking, sounds, drawing, etc.
For the next three years, I smoked on and off. I would smoke at parties, friend's houses and even sometimes before school. I was experiencing everything in a new light.
Throughout those three years I was kicked out of four different schools for various reasons. I was constantly fighting with my parents because they kept finding my stash, bong or pipe.
They would threaten me with rehab and I would promise to never do it again. I would go a month without smoking and then, when things were cool, I would start doing it again. My parents did their best to protect me but the need for an alternative reality always kept me finding ways.
When I graduated high school, I decided to move to Los Angeles to pursue acting. The first six months were really hard, mainly because I didn't know anyone and since I wasn't going to school,I didn't meet that many people my age.
However, the potheads always seemed to come my way. I tried smoking once by myself in my apartment and it was one of my worst experiences. I felt paranoid and overly aware of everything.
A couple months later, two of my friends came to live with me. They were even bigger stoners than I. One of them even had a medical marijuana card.
We started smoking everyday and since there was no parent, it was always there. Bong on the table, rolling papers by my bed and my stash on top of the TV.
I started "waking and baking" and it felt like a completely different high, mainly because I had just woken up and wasn't fully there. I started smoking before and during my job as a valet attendant. I bumped so many cars and gave really poor customer service, really because I just wasn't interested in anything but getting high.
I am 24-years-old now, 2 months shy of graduating college and I have smoked marijuana everyday for the past 6 years. I have slowly been trying to quit for the past 2 years
.
I have had the urge to actually do something with my life but being a pothead has taken me nowhere. I always have these great ideas when I'm high but when I'm sober I'm just thinking about getting high. I have tried many other drugs, 'shrooms, cocaine, ecstasy, uppers, downers and even oxicotin.
But all those drugs had more intense highs, therefore more intense come downs. I didn't like how I felt afterward. With weed, I didn't really feel the comedown. See, marijuana is a very different drug. However, it is a drug nonetheless.
YOU LOSE TOUCH WITH YOURSELF
When you start smoking pot, the experience is out of this world. But as you increase your consumption, your tolerance increases as well. All of a sudden it takes a whole joint for you to just feel a little high and it lasts way less.
After, you start feeling anxious and uncomfortable and your mind starts tricking you. When you smoke, everything changes. Your perception about things changes. Because the negative effects of weed take a long time to be apparent and are very subtle, most people don't even notice them.
However, marijuana takes away your motivation. It takes away your natural ability to enjoy the little things and you become numb.
This combined with the fact that today's generation has the ability to have anything in the comfort of their couch is what should raise concerns. Television with 500 channels, laptop with WiFi, all kinds of food delivering and cell phones that can have all the music you know.
Everything is set out for us. We live under the illusion that our whole lives are planned out. You graduate high school; you go to college and then get a job and work enough to retire young enough to actually begin to enjoy real life. There is no higher meaning in our lives.
I have seen a correlation between the increase in marijuana users and increased depression. It used to be that only the reggae or metal rock listeners, long hair and dirty hippies would smoke pot.
Now, everyone is doing it. Medical students, young lawyers, bus drivers, small business owners and even family men. At the same time, you see more and more people with psychological problems like paranoia and panic attacks. You see more people with depression in their twenties. The suicide rate has gone up. I am not saying that marihuana makes you want to kill yourself, but most of the time it's part of a combination of factors.
ILLUMINATI TOOL?
Marijuana is being more and more tolerated in every country. Authorities seem to think that it is not a big deal. Maybe the puppeteers of the New World Order are using it for their master plan. Scientifically speaking, marijuana creates impotence and increases the possibility of sterilization (population control). It creates dependency and an absence in the user that if anything where to happen (i.e. total state police control) no one could actually defend themselves. It increases the possibility of mental problems leading to thoughts of suicide (population reduction). And yet, somehow, marijuana has been secretly promoted as something good. Some people even considered to be a sort of spiritual drug.
I haven't smoked for 3 days now and I feel completely different. I keep getting amazed on how articulate I can actually be. I find that I am more present in everything I do and I actually have the motivation to get up and do it. I also had the most amazing sleep last night, like I haven't had in so many years. While I was using pot, I had restless sleep. I kept waking up and tossing around and I always woke up as if I need more sleep. It is not easy to quite smoking weed, mainly because it's a mental addiction. I think about it constantly. I feel irritated and always have a slight headache. It is also very hard, when everyone I know and run into smokes weed.
But I truly believe it is worth quitting and hope that at some point I'm going to feel more alive than ever.
--
To my query, "Is Marijuana Addictive?"
Tavo answered: Yes, scientifically speaking, it is not addictive in the same way that other drugs are, where the body becomes dependent, however, it is mentally addictive in the sense that it influences the brain to release the chemical called "dopamine", which is the chemical that makes us happy. However, there will come a point where your brain gets used to the use of marijuana that it only releases the chemical when you use the drug. It is also a mental addiction in the sense, that reality under the influence of marijuana is more appealing than being sober.
There was a comment by someone saying that Marijuana is a gift. I agree that there are certain aspects of it that are really good. Like when it is used for medical purposes. But most pot heads, especially my age use it for other reasons, which is to escape their reality, the hassle of having a job and the boredom of "real life", and this is who I am writing the article for. If someone can use marijuana once in a while, and it works for them, then good, but I am speaking for the majority of marijuana users who even if they have a strong will power, like I do, it is very hard to change your habits when Marijuana has been such a great influence in your life, like the kind of music you listen to, the activities you do and the people you hang out with.
--
Related-
Ontario a Step Closer to legalizing Pot