Cruise Ship Disaster - Metaphor & Portent?
January 24, 2012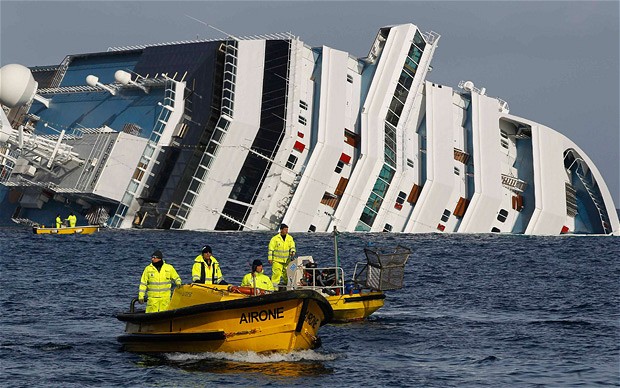 With tensions over Iran mounting, it's possible Costa Concordia wasn't an accident but rather a portent.
by Henry Makow Ph.D. We're all passengers
on the cruise ship Life. We don't much understand it but we're willing to give it our best shot. We just want to enjoy the ride.
We trust our leaders, the "captains" not to run the ship onto the rocks. But they seem to do this almost willfully, on a regular basis, by starting wars.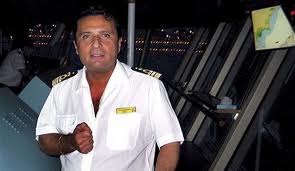 They hit the rocks; they lie to us about it. "Go back to your cabins; no cause for alarm; just an electrical outage; will be fixed shortly."
They abandon ship and leave us to our own devices.
"Sauve qui peut!"
Every man for himself!
Some people who returned to their cabins died.
The
Costa Concordia,
christened in 2006, was named "Concordia" for international harmony. Each of the decks was named for a different European country. Is it a coincidence that when the Eurozone has hit the rocks, so has the ship?
The Captain, Francesco Schettino was criticized for breaching his responsibilities. He abandoned ship instead of aiding his 3200 passengers and 1000 crew members.
On the same day, back in the USA, Newt Gingrich was criticized for abandoning his wife in her time of illness. Espousing "family values" to the nation, he told her he wanted "an open marriage." He was her "captain" and he abandoned ship.
Gingrich went on to win the South Carolina Primary. I guess we get the captains we deserve. In November, we can choose between someone like him and "Change-You-Can-Believe-In" Obama.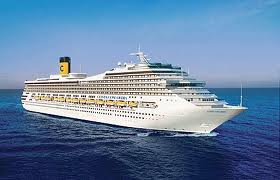 SYMBOL OF HUMAN ACHIEVEMENT
What a beauty the Costa Concordia! Almost 1000 feet long, 114,000 tons, built at a cost of $570 million. 101,000 horsepower!
According to Wikipedia, "Costa Concordia has one of the world's largest exercise facility areas at sea, the Samsara Spa, a two-level, 65,000 sq ft fitness center, with gym, a thalassotherapy pool, sauna, Turkish bath and a solarium. The ship has four swimming pools, two with retractable covers, five jacuzzis, five spas, and a poolside screen on the pool deck."
"There are five on-board restaurants, with Club Concordia and Samsara taking reservations-only dining. There are thirteen bars, including a cigar and cognac bar and a coffee and chocolate bar. Entertainment options include a three-level theatre, casino, and a discotheque. There is a children's area equipped with PlayStation products. The ship has a Grand Prix motor racing simulator and an Internet café."
So much man-made glory and splendor now sitting capsized, fish swimming in the theater aisles and kitchen galleys, a reminder of what can happen to our gleaming, well-ordered society.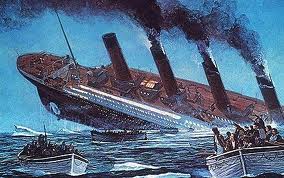 PARALLELS WITH TITANIC?
There is evidence that the sinking of the Titanic April 14, 1912 was
not an accident.
The world's first unsinkable ship may have been sunk by the Illuminati to demoralize mankind, and as a portent of coming war.
Similarly, Bruno Leporatti, the lawyer for Captain Schettino,
has
said that
while his client accepted some responsibility for the accident,
"third parties were also involved and the investigation should be widened
."
Is the lawyer referring to the ship's owners
ordering the dangerous sail-past
as a publicity stunt, or is there more?
"Italian authorities are searching for the captain's personal computer, amid reports that it was taken away by a mystery blonde woman in the hours after the disaster.
He reportedly had time to retrieve the laptop from his cabin and bring it ashore, despite telling investigators last week that conditions on board were so chaotic that he accidentally "tripped" and was pitched into a life boat.
After reaching Giglio's rocky shore in the early hours of Saturday, Jan 14, he took a taxi to the Hotel Bahamas, the only hotel that was open. The owners said the captain was holding a red plastic bag containing a rectangular white object which resembled a laptop case.

(left, Carnival logo, dot in circle.)
He was being interviewed by an Italian television network when a smartly-dressed middle-aged blonde woman employed by Costa Cruises swept into the lobby, ordered him not to do any more interviews, and whisked him away."

(second logo, sun rise on its side)
CONCLUSION


The sleek luxurious Costa Concordia represents the perfection within mankind's reach. But humanity has been subverted and colonized by a vicious satanic cult, the Illuminati. The capsized vessel symbolizes the fact that our "captains" are in the pay of this cult.
They are waging a covert war on mankind. Wars are their primary weapon. But periodically they inflict "accidents" such as Fukushima and the
BP Gulf oil blowout, or "natural disasters" like Katrina. The Costa Concordia may have been one of these. (See- K
abbalist Doctrine May Explain World Events
.)
They want to replace God. Who knows what further destruction they will wreak to get their way. But with tensions over Iran mounting, it's possible Costa Concordia wasn't an accident but a portent.
===
Related -
An Astrological Perspective