Satanist Insider: "Now is the Time of Destruction!"
August 7, 2011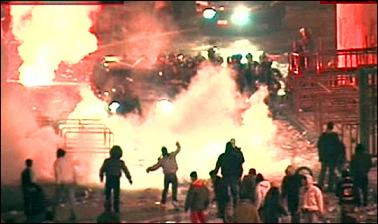 "We must destroy before we can redeem... The filth honestly don't know what is good for them. We do. We have a new exoteric religion based upon simple truths and timeless joys, not fears - a spirituality that the populace can appreciate - when Vindex comes."
[EDITOR'S NOTE: THIS WEBSITE CANNOT ENDORSE MR. FOZDYKE'S VIEWPOINT OR VOUCH FOR THE ACCURACY OF HIS INFORMATION. THE READER MUST DECIDE WHAT IS OF VALUE. IN JAN. 2010, MR. FOZDYKE RELEASED THIS REVEALING DOCUMENT, 'AUSTRALIAN ADEPT REVEALS WORLD SATANIC CONTROL.' I WISH MR. FOZDYKE HAD SHED MORE LIGHT ON THE CURRENT FINANCIAL TURMOIL. ]

by Aloysius Fozdyke
(henrymakow.com)


"Lucifer the ambiguous paradox exists without our prayers. With no grand temples and but a small enigmatic band of adherents throughout the ages He continues to point the way to Godhead. And even if His names are ever forgotten; The Exiled One, The Stranger, The Dissident and The Other will whisper encouragement to those who strive to cross the borders of the known."

The (Alpha Lodge) Black Flame lecture

Satanists take a very long view.
If it takes a few centuries, a few miscalculations and deaths that's just the way it is. I am fortunate to live at this time when the dreams, aspirations and Magick of so many who labored tirelessly and with dedication are now coming to fruition. It is also a burden as those Magicians and their efforts weigh heavily upon us all. We cannot afford to make any mistakes at this critical juncture.
With markets in meltdown and fiat currencies dying, it won't be long before the blood starts flowing. I give praise to my Prince, the fire-giver and look forward to His reign and the pleasures which are to come! The world as we know it and Americans in particular, are set for death and destruction....
Yeshua and Allah make their followers impotent in this life, whereas Satanism is an opportunity to reach the greatness of the Gods and Goddesses themselves. It's an alchemy, if you will: difficult, dangerous; joyful, terrifying and perplexing - but able to produce profound change. As sophisticated sociopaths we contradict the very essence of all that is assumed. Living by the law of nature, we take what is rightfully ours. Nothing can stop us now. Nothing ever has!
The right-hand path has left some very deep patterns that still need to be expunged. Fortunately the false religions of lies, fables, stupidity, filth and debasement are quickly dying (as are their followers), nonetheless their slime trails remain. Whilst ever the irrational sheeple sleep we can work for their benefit. We must destroy before we can redeem. Now is the time of destruction. The filth honestly don't know what is good for them. We do. We have a new exoteric religion based upon simple truths and timeless joys, not fears - a spirituality that the populace can appreciate - when Vindex comes.
Esoterically we will still maintain that insight and ruthlessness are paramount for advancement. Insight derives from self understanding and knowledge. Ruthlessness from a strong will combined with a definite and tangible goal. To be ruthless without insight and understanding is as easy as it is stupid. What is now known as the Alpha Lodge will continue unhindered to advance humanity. We appreciate as do few others, the pathetic nature of the human condition and we take from it what we can. What other creature needs holidays to remind them of what to feel and when? Our God's time has come.
MY MENTOR
I was initiated into the Alpha Lodge in the late 1970s. I was a lawyer specializing in banking law when one of my clients introduced me to some of his friends. From there I was covertly assessed over some months until the invitation was given. I accepted. I met Petor Narsagonan and was amazed by his urbane sophistication and money. I was earning a very comfortable living in a specialized legal area, but Petor had it all: beautiful women, luxurious accommodation, connections in the world of business and politics; even a Jaguar sports car! The world owed him a living and it just came.
He invited me to anonymous sex parties with some of the most attractive young teenage girls I've ever seen. Usually all the blondes would be called 'Susan' and all the brunettes 'Ann', or some such. He introduced me to cannabis and cocktails, to parties and important people, to sin and sex - all the while gauging me for my life to come. Petor had money and lots of it. His cover was the travel business but it was obvious to me that he was a man about town of independent means. He always dressed to impress and had a penchant for the finer things in life, particularly cigars and vodka. Petor played with sheeple. He seemed to be able to read their minds. He had a keen eye and let others believe he was a means to their ends.
Petor also had a network of boys and young men whom he laughingly referred to 'my toilet boys'. "I will make you fishers of men if you follow me..." These he used to compromise people. Many senior judicial officials and politicians abuse alcohol and a number are closet homosexuals. Petor used this to his advantage. If any trouble ever occurred, a quiet word or unobtrusive appearance in the body of the court was all that was required. Professionals are just like everyone else, except that they'll do anything to protect their position. For most, their best interests consist of not being punished.
In the mid-1990s one such associate of Petor's became a State Attorney-General (and Minister for Industrial Relations) before being appointed to a State Supreme Court. Alcohol destroyed what could have been his brilliant career, although I feel sure that if he'd contacted Petor, he could have saved him. He was an asset. Around that time, another judge of Petor's acquaintance who lived a very duplicitous life of high standing in his church and railway toilets, gassed himself in his car. He used to be supplied boys too.
Although I knew him for about a quarter of a century I never discovered anything about Petor's family or where he grew up. He remained very much a charming mystery man. He was an expert in the black arts; naturally gifted. I've seen him in action many times. It was the quality and natures of the forces set in motion for which he strived. He taught me that whatever is the most gross, will triumph in the end and that whatever levels the playing field triumphs only for a while. Towards the end I knew he was sick, but again, I never found out what killed him. I know that even to this day he watches over me.
INFLATION
Soon the Reserve Banks will increase interest rates. Inflation will run rampant. This will lead to quick destruction of economies. Governments worldwide will increase taxation to pay debts that can't physically be paid. This will be done because the sheeple want it and to prevent economic recovery. There will be no superannuation, pensions or social security: Just get over it. All this was set in place in September, 2010. Think not what you can do for your country. Think what your country will do to you! Gold will be taken from the sheeple; although Satan's metal, silver will be safe.
The American presidential elections will be like no other - ever! We've already chosen the next President and that will be a first as well. All governments will change because of the turmoil that is coming. In an arid wilderness of steel and stone, broken lives and desiccated dreams Lucifer will proclaim, "Death to the weaklings! Wealth to the strong!"
For the masses behave like stupidity was a virtue and finding truth isn't important. What is important is the appearance of order - what lawyers call 'due process'. Justice is no excuse for law. The best method of enslavement is to tell the sheeple they are free, helping them to really believe that every necessity was their choice. The filth will do anything if you just redefine it, because for them labels are a substitute for reality. We always give others the values that they value.
Our systems are now coming to fruition. Our initiates will openly rule.
----