"The Informers": Spurned Movie Gem
August 3, 2010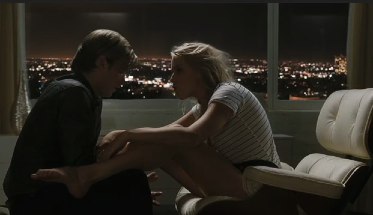 Graham is upset because Christie is sleeping with Martin. But Christie explains it's not really cheating, because he is too.
By Henry Makow Ph.D.
Bret Easton Ellis,
46, is known for the novel and movie
"American Psycho"
and other works that chronicle America's descent into insanity. His latest movie
"The Informers"
(April 2009) is a chilling portrayal of the moral vacuum that is America.
This movie stood as much chance as a seedling in a dog park. Movie
critics pissed all over it
complaining it had no story. That's because it's a slice of life. The narrative consists in the portrait. They also complained the people were empty.
That's the point.
The movie depicts privileged white people in the 1980's binging on cocaine and sex. Australian director Gregor Jordan (
Buffalo Soldiers)
cut the film down to a manageable size. Ellis complained Jordan took out the humor but conceded this was Jordan's prerogative. This is a grim movie but it has energy and moral seriousness.
Scenes of LA Freeways at night convey a eerie existential quality to the flea-like behavior. Billy Bob Thornton, Kim Bassinger, Mickey Rourke, Jon Foster, Winona Ryder and Rhys Ifans all give remarkable performances. Amber Heard plays a beautiful slut who dies of AIDS.
I was puzzled that Hollywood could still make art. The explanation: the movie was financed by a German company "Senator Films" which despite losing a fortune on this movie, has survived.
HEART OF EVIL
The movie could not portray the Illuminati Satanists who run America. Nevertheless there are hints, as when an aspiring actor-doorman tells the studio boss's son:
"I know you can't make it in this town without doing some pretty horrible things."
It's not just the political elite that is compromised. Actors, businessmen, generals; everyone who "makes it" must prove he will serve Satan first.
There is a subplot where Mickey Rourke (the doorman's uncle) plays a child snatcher. We see him take a boy off a skateboard and dump him in his van as casually as a bag of groceries. Rourke sells the child for $6000 for sex to some Illuminati Satanists.
He is not around when the purchaser, a clean cut man out of a Gillette commercial comes to get him. The doorman pretends he doesn't have the child, who is in the bathtub wrapped in duct tape. When Rourke gets home and learns what has happened, he is frightened: "We have to leave, pronto. You have no idea how vicious these people are."
The main focus is the family of the studio boss, played by Billy Bob Thornton. It seems that "sexual liberation" has shredded the social fabric. Thornton has left his aging starlet wife played by Bassinger for another woman but is dithering due to the property settlement. His son, played by Jon Foster, spends his time tripping, having sex and looking cool.
How much of his behavior is due to this parent's situation? "I need someone to tell me what is right and wrong, what is good and evil," he tells his friend Martin.
His father who has destroyed his mother isn't going to tell him. His mother and girlfriend who are sleeping with Martin won't. Martin certainly can't. Yet Jon seems incapable of figuring it out himself.
All human relationships have been sacrificed to "sexual liberation" - the dehumanizing (satanic) philosophy that sexual attraction trumps everything else in life.
There is another subplot where a father hits on his son's girlfriend. The refrain is heard again: "We have no family." "We have nothing to talk about Dad."
CONCLUSION
We don't realize that our era is the product of a successful satanic conspiracy based on destroying the natural and moral order. This was sold as "liberalism, tolerance, progress and equal rights." It is ongoing, as they impose homosexual dysfunction on society.
It's not surprising that an artistic portrayal of this moral decay was spurned.
--
Scenes from the movie:
Four Clips from the Movie
Wikipedia Account
of "The Informers"