Malthus & Darwin - Joined at the Hip
April 20, 2012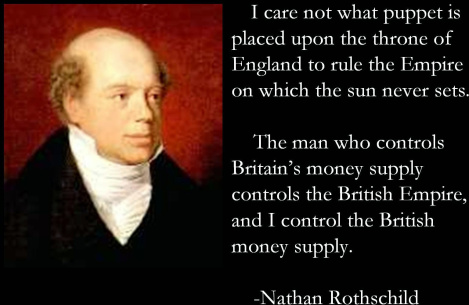 The board game Monopoly, created and first introduced in 1903 as The "LandLord's Game" by Philadelphia Quaker "Lizzie" Magie, was designed to teach Henry George's anti-Darwinian economic philosophy.
Malthus provided Darwin with the economic ideology; Darwin came up with the "science" to justify it, and eventually it was put into practice, i.e., applied Darwinism, meaning applied eugenics and genocide of "inferiors," and who are referred to as "useless eaters."
by Elm
(henrymakow.com)
Contrary to conventional notions,
Social Darwinism - the secularized science of evolution is an economic ideology masquerading as a natural science.
Much of Darwin's thinking was derived from the economic theories of British-born Thomas Malthus & his
Essay on Population
, i.e., that population tends to outstrip subsistence.
Of course, this is an Old World reductionist view, largely predicated upon feudalistic notions propagated by the Land "Lord" or privileged class. The Malthusian theory of an increasing population juxtaposed with a scarcity of resources, actually serves as a pretext for control, greed and genocide - that it's all about the survival of the "fittest" and the disenfranchisement & culling of those less "fit" and less deserving.
A contemporary polar opposite to Thomas Malthus, today largely expunged from the halls of academia, is American born economic philosopher Henry George, and his refutation of Malthus in his 1879 treatise on economy,
Progress And Poverty
.
In contrast to Malthus' assertion that wages are a claim upon the capital and wealth of the Land "Lord's," George explains, wages are neither a demand nor a claim upon the capital or wealth of another, that all labor creates its own wage, thus refuting the view that labor is a "cost of doing business."
Indeed, it is this fundamental inversion of the true relationship of a man's labor to his wages, which forms the basis of economic servitude.
Labor is neither a cost nor an expense of doing business, but an asset of a production of wealth, no matter at which stage this production occurs. Labor & wages constitute a value for value exchange.
What the current Corporate Interface does is masticate labor into a cost of doing business, i.e., a "wage cost," then regurgitating it out the corporate backside as profit & income to owners.
All free men own their labor, which is their most private form of capital and property. A man whose labor does not belong to him is in economic servitude, no matter how pretty it comes packaged.
Further, George explains, nature bends her knee exponentially to the creative ingenuity and labors of man, thus challenging the Malthusian assertion of scarcity, as if man were bound to a hunter gatherer society & economy.
Whereas Henry George is portrayed as a "socialist," he was rather, predisposed to the principle & ideal of social justice rather than the pretentious political ideology of social"ism."
So essentially, Malthus & Darwin are the warp and woof - the economics & science of Applied Eugenics and Social Darwinism, this predicated upon an inverted notion of the relationship between labor and wages, and the hunter gatherer economic ideology of scarcity & adversity.
Our greatest concern today, is not whether man "evolved" from a chimp, but whether he will devolve into a chump.
The question is not, how do we feed and manage the world, but how do we empower the people of the world to manage and feed themselves?
--
Further Reading...

Also see, The Billion Dollar Swindle, by Ralph Anspach