Why Science Wants Us to be Chimps
April 18, 2012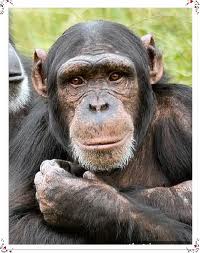 Independent scientists are challenging the dogma that humans are just a few DNA base pairs away from being monkeys.
This undermines the Illuminati plan to take human evolution away from God.
"A scenario involving state-mandated and guided evolution by any trans-humanist technology is being devised with the promise that the "experts" will fix all our evolutionary problems."
by J.P. Tomkins
(henrymakow.com)
(J.P. Tomkins was a Professor of Genetics and Biochemistry for 19 years, ran a genome center for seven years, and now work for a small non-profit research center.)

Scientific research regarding human origins has been skewed to promote and justify an amoral vision of man as simply an evolved animal without a soul connection to God.
By dehumanizing us, the Illuminati can justify many malicious inventions aimed at societal control and population reduction.
One of the goals of the technocratic elite has been to prove that humans share a common ancestry with chimpanzees. This will allow the elite to re-engineer humanity according to their specifications.
Indeed, many scientific claims state that the DNA of humans and chimps is nearly identical (98%-99%).
However, several recent publications show that these estimates are based on highly filtered and cherry-picked data.
DNA that was too dissimilar to be conveniently aligned was typically omitted, masked or not reported.
Based on the analysis of data provided in various publications, including the often cited 2005 chimpanzee genome report, human-chimp genome similarity is not more than ~87% identical, and possibly not higher than 81%. Indeed, a detailed comparison of the chimp and human Y-chromosomes by a secular research group in 2010 showed 70% or less DNA sequence similarity.
Unfortunately, human genomes are not evolving but decaying. The accumulation of harmful mutations indicate a creation-based start point that was more pristine.
In the opinion of this author, DNA findings by independent researchers are clearly in line with the Book of Genesis where mankind was created uniquely in the image of God. For a listing of publications and articles that support these conclusions go to
this web site.
TRANS-HUMANISM
The possibility of humans evolving to a new level with the help of "experts" has been proposed by Illuminati technocrats. This is called 'trans-humanism'.
This trans-humanist agenda involves technologies such as the bio-engineering of the human genome, implantable micro-chips, exotic new drugs/vaccines, and other biological enhancements.
The idea is that these technologies will help us fix the mistakes of evolution and move us to the next level - even a new species.
However, the reality is that anything that will actually improve the quality of life will be most likely be reserved for the elite.
Those allowed to live in a depopulated world will be sold Trojan horses that will simply further enslave us - all in the name of guided and state-mandated evolution.
Supposed human evolution is actually a repackaged ancient esoteric philosophy whereby man "evolves" into a god. However, for the Illuminati being a "god" doesn't require moral improvement.
In fact, Charles Darwin used the term "becoming" and "evolution" interchangeably in his tome on human evolution "
The Descent of Man
...".
This was a new version of the ancient pagan "chain of being" or "chain of life" dogma.
Today, Trans-humanism is being packaged as a "kindler gentler" social Darwinism to the academic community and the general public.
---
Related -
Intelligent Scientists Expelled by Illuminati
------------
Why Darwin is so Important to the Illuminati
-----------
Archeological Finds Debunk Darwinism
(YouTube) A Challenge to Trans-humanists
http://www.youtube.com/user/charlessupton