The Strategy Behind Same-Sex Marriage
December 16, 2009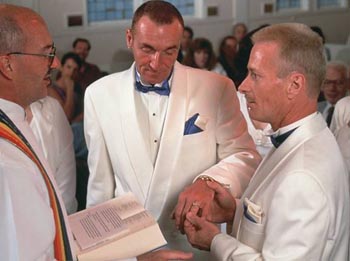 by Rollin Stearns(for henrymakow.com)
Traditional marriage
has been under attack for a long time. In the past decade, the main battleground has been same-sex marriage.
My state, Maine, was one of of the six states where it was legal. But then, in a referendum last month, a majority of voters overturned the law. Now it's only five states.
Does this mean same-sex marriage can be stopped ?I hope so, but I think it's doubtful. The recent victory had a defensive quality, like a goal-line stand. This is because the battle was lost 30 years ago.
He Who Says "A"
Lenin formulated the principle: "He who says A must say B."
This means, if you want your opinion to prevail, don't attack the issue directly. Instead get your opponents to concede another issue, one that seems unrelated, but which is vital to the real issue.
It's like a chess player whose seemingly innocuous moves lay the groundwork for the ultimate checkmate. People who plan social revolution think ahead, far ahead.
To apply Lenin's dictum to the issue of same-sex marriage, let's make it even more forceful. Let's say: "He who says A and B must say C." Here, "C" stands for same-sex marriage.
What are "A" and "B"? "A" is contraception on demand. "B" is divorce on demand.
Contraception on Demand
Contraception was once seen as a moral issue. All Christian denominations were opposed to it. That didn't change until 1920, when the Anglican church gave its qualified approval. Once that happened, the qualifications soon got swept away and other denominations joined in. The Roman Catholic Church, which didn't cave, was left holding the bag.
The Catholic Church almost caved too. There was lots of pressure to do so, especially after the invention of the Pill and the changes brought about by Vatican II. But in 1968 Pope Paul VI surprised many by publishing Humanae Vitae, which forcefully defended the Church's traditional teaching. He was heavily criticized, even within the Church hierarchy.
In the culture as a whole, the battle over contraception was over by the end of the 1960s. In Griswold v. Connecticut, the US Supreme Court discovered a new constitutional "right to privacy" and swept away laws restricting contraception. (This was a decision and a rationale that would soon lead, by design, to Roe v. Wade, which legalized abortion on demand -- abortion being the logical "back-up" for any contraceptive failure.)
I don't want to debate contraception here (I'm aware that it may be used beneficially and that there are good arguments both pro and con with regard to liberalizing the law). Nor do I bring this up because I'm a Catholic. I'm not. I'm saying we now live in an age where virtually anyone can obtain contraception. And this has at least two major consequences.
We now have a culture of sexual vagrancy. We're all aware of the "hookup", along with the devastating impact this has on the lives of young women (and in truth on all of us).
The second consequence is that contraception has fundamentally changed the meaning of marriage. Most married couples still have one or two children. But big families are now rare, and many couples are childless.
There was a name for them in the 80s: Dinks (i.e., "dual income, no kids.") It now became widely acceptable -- "normal" -- not to have kids. In other words, even though in practice most couples still had children, in principle the link between marriage and children had been severed.
Divorce on Demand
In the 1970s, Lenin's friends instituted "no-fault divorce," i.e., divorce on demand. Now either party could get a divorce for any reason or no reason, no matter what the other one wanted. The issue of morality was now irrelevant.
The first state to legalize no-fault divorce was California. Ronald Reagan (who himself had been divorced) signed it into law. By the end of the 1970s, it had swept the nation.
Wasn't this a good thing? Certainly there were people who felt trapped in a loveless or unjust relationship. But the consequences today are tremendous, especially for the children of divorce.
Marriage vows had always emphasized "till death do us part." Monogamy didn't just mean one partner at a time, it meant one partner for life. And while many people still remain married for life, we now have a culture where multiple marriages are normal.
In other words, since marriage can now easily be dissolved, in principle the link between marriage and permanence has been severed.
"Same-Sex Marriage"
It wasn't until the changes wrought by "A" and "B" had time to permeate our culture, both practically and psychologically, that the campaign for "C" got underway.
But when it did, opponents of same-sex marriage had already all but lost the battle. They had surrendered the ground on which they could have fought. They had accepted a redefinition of "normal" marriage that made it virtually indistinguishable from homosexual liaisons.
Homosexuals live together. They don't (for the most part) have children, but neither do many heterosexual couples.
Most of them are not faithful to their partners, and they change partners often. There's little permanence. But that's now acceptable among heterosexuals. And since homosexual "marriages" and heterosexual marriages have come to resemble each other, how can we accept one and reject the other?
And just to make it doubly hard to object, homosexual activists launched a campaign for homosexual adoption. See? They're just like us, raising a family.
So having homo-sexualized traditional marriage by severing its links to children and permanence, they now supplement that strategy by presenting a grotesque counterfeit of traditional marriage: the happy homosexual couple, faithful for life and raising a family. How could you deny them the right to marry? They're more traditional than you!
Who's to Blame?
Through their control of education and the mass media, the central banking cartel has engineered a worldwide social revolution designed to annihilate traditional culture. One of their chief weapons in this has been feminism. Contraception was sold to women, not as a way of destroying the family but of enhancing it, by allowing them to plan and prepare for children who were wanted. More liberal divorce laws were also promoted as a benefit to women, as a way out of an abusive or loveless marriage.
There was enough truth in this to seem plausible. Limited change may well have been beneficial. A healthy traditional society is not static; it changes and develops, but always on the basis of its foundational values and principles. But just as Vatican II was hijacked by Masonic and Marxist forces within the Church; just as the Civil Rights movement was hijacked by Communists to implement busing, affirmative action, and other forms of reverse racism, so changes in the laws governing contraception and divorce were used to create new, unlimited, and destructive rights.
Our mistake was initially one of trust. We took the proposed changes at face value. As I said at the beginning, our enemies plan ahead, far ahead, like a skillful chess player. Those who should have been looking ahead on our behalf -- those religious, academic and political leaders who espouse traditional values -- by and large failed us. They failed to see that the end game was the destruction of traditional marriage.
ConclusionTraditional marriage is not a relationship of autonomous individuals who each seek to satisfy his or her own desires. It's a social institution designed to join a man and woman for life, so they can raise a family and transmit the culture and its values to the following generations.
This inter-generational institution forms the basis of society. It not only gives stability to society as a whole, it gives stability to those who are members of the family. And it gives more. While the autonomous individual seeks (and may even find) the satisfaction of his own desires, it's the person in a true marriage who is best able to learn the meaning of love.
We all know that in practice the traditional family is often imperfect. It can be oppressive and unjust. In a fallen world all institutions and all relationships are imperfect. The answer is not to destroy those institutions or undermine them. The answer is purify and strengthen them, so they come closer to the ideal they espouse.
In the battle against the homo-sexualization of marriage, this means to reaffirm -- morally, intellectually and legally -- the essential values of procreation and permanence.