How I Ran Afoul of Freemasons
August 2, 2013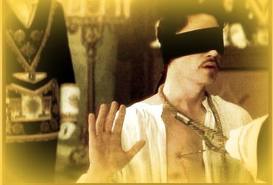 "
I am a Christian who has been persecuted by Freemasons (and other secret organizations) almost all my life. The police, fireman, lawyers, courts (in fact the entire government systems) have boxed me into a corner. I realize this sounds like paranoia, but it is true... The snake continually strikes at my heels. I am now crippled (from plane crash injury) and am afraid of what will happen if I fall.

My story although it sounds incredible is true, and I can back most of it up by evidence.

Is there anything you can do to help, or suggest where I can turn to for help? This thing is way bigger than me and I can not continue fighting on my own."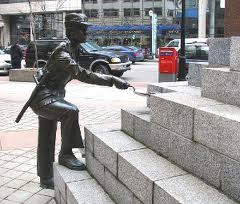 (left. Hiding in plain view. Police woman places capstone on pyramid in front of Toronto police HQ on College St.)

With all its pretensions, Western society continues to be a hypocritical farce as long as its institutions are controlled by a criminal satanic secret society.
by "Tracy Wagner"
(henrymakow.com) Around 1980, I was a young commercial
pilot, aircraft salesman and manager. My goal was to become an Air Canada captain. I had always striven to be an ethical person. By accident, I discovered illegal activities including the importation of cocaine of which I was inadvertently involved. I was afraid if I just quit, they would know what I had discovered and my life would be in danger.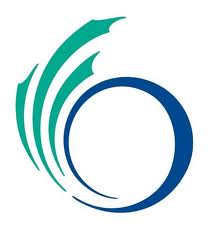 (left. Ottawa Logo - 666 is on every street sign, bus, cop car and city vehicle in nation's capital)
I went to the RCMP and was told that the business owner was already under surveillance. The police were looking for "higher ups" in major Canadian cities.
The RCMP agreed suggested I continue working (and continue to invest through my pay) until their investigation was complete and arrests were made.
I continued to work for several months but things got strange. On one occasion, I was threatened with a .38 special thrust into my stomach.
I had become the favorite corporate pilot and had met investors (money laundering) from around the world. I was also introduced to an Italian who was hiding from the police and was involved in the P2 Lodge scandal of that time.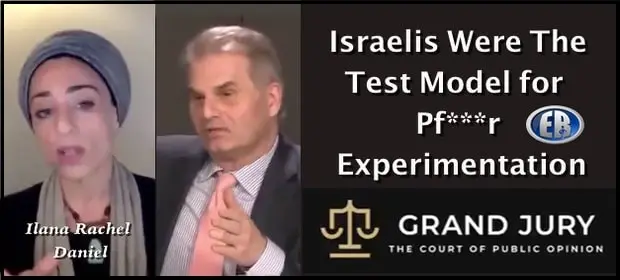 I was told that Freemasonry was just a front for the higher objectives; most Masons had no clue as to these real objectives. These were the New World Order and the rebuilding of Salomon's Temple in Jerusalem, being built for the coming real messiah.
At that time I thought it all too incredible and believed that whatever the truth, it would be sorted out by the police when they made their arrests.
NO POLICE ACTION

I left the company in mid 1981 under threats and believed (as did the company secretary) that a contract had been placed on me for various reasons at that time. Although I had agreed to cooperate with the police; there were some things I refused to do.
The secretary and I escaped, told the RCMP, and traveled north to Dawson Creek where I had arranged for another job as a pilot. En route, while passing a transport truck in my car, the steering wheel came off in my hands. Coincidence?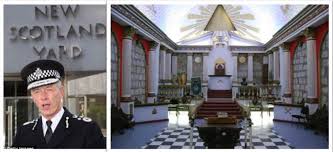 (In UK, police actually wear the Masonic checkerboard on their hats)

I was then instructed to meet with RCMP officers in Edmonton, and Canadian Army Intelligence officials because of the "Official Secrets Act." At the meeting I was threatened. They told me that if I divulged anything about the above mentioned activities, that I could end up in jail for trumped up tax evasion charges.
In jail someone might come at me from behind. I would feel a slight prick in the neck, and that would be game over. Or, I might end up in hospital from some unlikely accident. A procedure would go wrong and again, game over. I though this awfully strange and wrong behavior, but assumed it was something to do with the nature of their investigations. They paid the restaurant bill with U.S. dollars which I also thought strange.
Over the years as a pilot my wife and I invested in several rental properties. Today we are close to losing it all and perhaps a quarter million dollars on top of that because of corrupt lawyers, police, fireman, the list goes on. How many times I have been flashed an evil grin and Masonic ring I cannot count. I have been told by business people and the police after they have robbed me through the courts that I have been blacklisted again by the OPP, RCMP and City Police and Fireman, although I have never done anyone any wrong.
----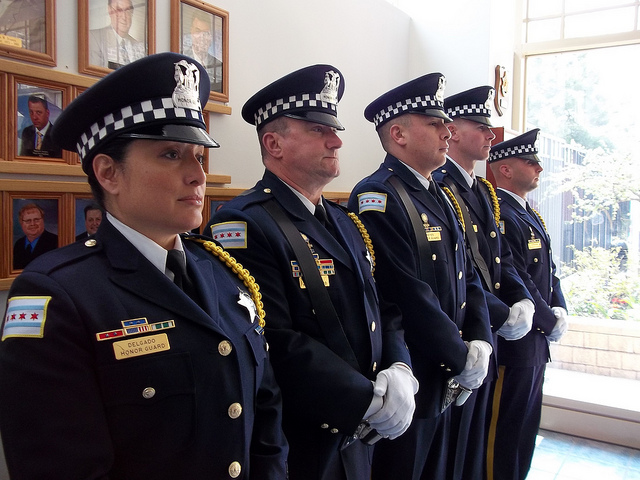 (
Chicago cops- same Masonic checkerboard)
Related-
Satanic Signs Everywhere (Logos) https://henrymakow.com/theyve_got_us_surrounded_--_il.html
Freemasonwatch.org
The Masonic Intelligence Network
Brotherhood of the Bell Exposed Masonic Tyranny
Why I didn't Join the Masons