Hitler a Traitor? Testimony of His Closest Aides
August 16, 2014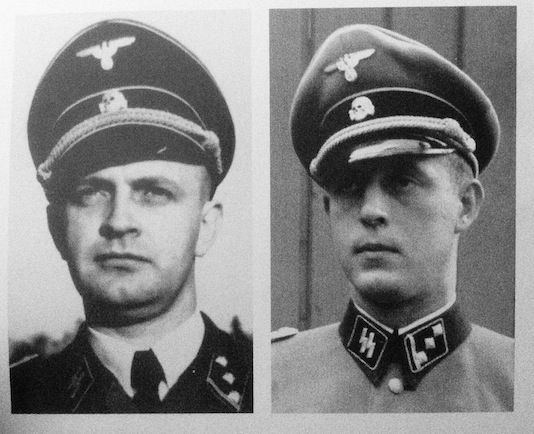 (
The Hitler Book
was prepared for Stalin in 1946 and is based on the testimony
of Hitler's personal adjutants, SS Officers Heinz Linge, left, and Otto Gunsche, right.)
Hitler acted like his only enemy was the USSR,
better to spare England and perpetuate a charade that resulted
in the genocide of almost 60 million non-Jews.

By Henry Makow Ph.DAs my readers know,
I believe
Hitler and Bormann were Illuminati agents
who deliberately sabotaged the Nazi war effort in order to destroy German resistance to Illuminati Jewish world tyranny.
It was common knowledge that Jewish bankers controlled the US, England and the USSR. Yet Hitler acted like the USSR was the only enemy, better to perpetuate a charade that resulted in the genocide of almost 60 million non-Jews. Time and again, Hitler used Russia as a pretext to spare England, which is the central banker headquarters.
Whenever I study WW2, I look for
new
evidence to support or discredit this thesis.
The Hitler Book
(John Murray, 2005) contains both. I'll deal with the supporting evidence first:
1. Gibraltar.
If Hitler were serious about winning the war, he would have taken Gibraltar and blocked the entrance to the Mediterranean. The Gibraltar Straits are only nine miles wide,
half the range of German naval guns.
He also could have established bases on the south shore, a Spanish protectorate. The Spanish dictator Franco would not have won the Spanish Civil War without Nazi help and was in Hitler's debt.
Hitler met with Franco Oct 23 1940 to discuss Spanish participation in the war. The German General Staff had a plan codenamed
Isabella/Felix
for the conquest of Gibraltar at the beginning of 1941. But Hitler tore it up saying he had "made up his mind to invade the Soviet Union at the first opportunity." He made the lame excuse that Germany would have had to defend and supply Spain if she entered the war. "Hitler clearly had no more interest in opening a new theater on the Iberian peninsula." (p.66.)
This is more proof that the Second World War was a charade. Defending and supplying Norway didn't prevent Hitler for invading that country.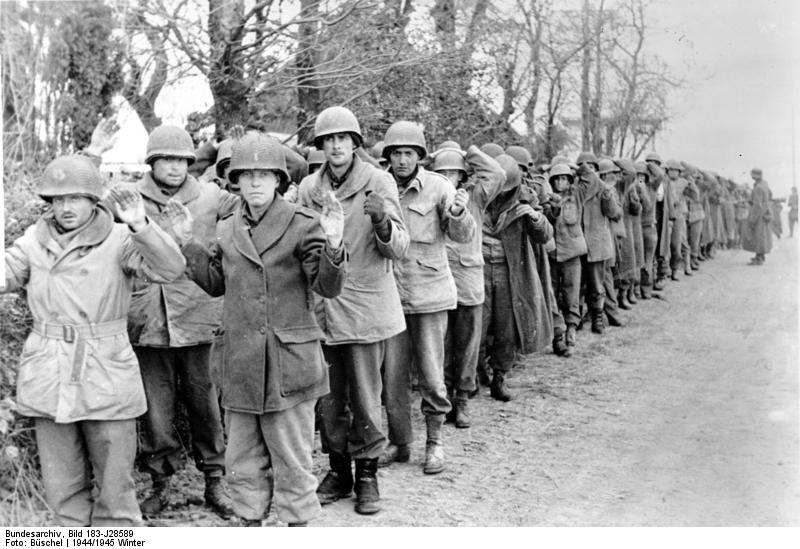 (left, US prisoners of war taken during Ardennes offensive.)
2. The Battle of the Bulge.
In December 1944, Hitler tried to reverse his fortunes by launching a surprise attack in the West aimed at capturing Antwerp, the harbor that supplied the Allied troops. As Hitler's adjutants tell it, this offensive was on the verge of success when General Guderian showed up at HQ and warned that a Russian attack was imminent. After staking everything on the Ardennes (Bulge) gambit,
Hitler followed Bormann's counsel and sent the core of his forces to the east. Hitler told Gunsche: "Tell
[western front commander, Sepp] Dietrich he must withdraw his divisions from the front two at a time. Tell him I have decided to throw his entire army at the eastern Front." (175)
"It was as if [Western front commander, Sepp] Dietrich had been struck by lightning. Everything was ready to force a crossing of the Maas...Skorzeny's units had already caused panic behind the lines and were already approaching the bridges on the Maas: The Fuhrer needs to be clear about one thing," Dietrich continued. "If my army is withdraw, then the road is open for the British and Americans to reach the Rhine." (p.176)
By the time Gunsche got back to HQ from seeing Dietrich, Hitler had already decamped to Berlin. German losses numbered 15,652 killed, 41,600 wounded, and 27,582 captured/missing. All for nothing. Would anyone but a traitor launch an offensive of this magnitude and then drop it on the cusp of victory?
About 610,000 American forces were involved in the battle, with 89,000 casualties, including 19,000 killed. It was the largest and bloodiest battle fought by the United States in World War II.
According to the two adjutants, except for this battle, and initial resistance after Normandy, the Allies took France and Belgium
without any real opposition
. "The Wehrmacht retreated behind the Siegfried line, fighting light skirmishes along the way. Almost without resistance, Anglo-American troops occupied France and Belgium." (p.171)
However they do correct two popular myths about Normandy. They say Hitler was in fact awakened on the morning of June 6, 1944 and not allowed to sleep in. The Normandy location had been correctly anticipated and Panzer Divisions had been moved there. In spite of this, Hitler concentrated his energies on the Eastern Front, where the situation was more grave, and the Allies were allowed to advance. (p. 149)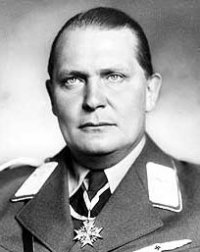 3. FAILURE TO SACK GOERING-
In the fall of 1944, the General Major of the Air Force, Peltz, who commanded German bomber squadrons in the West, "demanded that Goering be replaced on grounds of incompetence." He was supported by many Luftwaffe officers close to both Goering and Hitler.
Hitler waffled and failed to act. Failure in the air was a major factor in Nazi defeat. (p.251)

4. Failure to Support Rommel -
"Rommel
told Hitler that he would without doubt have been able to advance to Alexandria had Hitler sent him the promised reinforcements." Again, Hitler used the need to counter Russia as his excuse. (p. 103)



HITLER THE ACTOR?
On the other hand, Hitler did not behave like a traitor. Linge and Gunsche provide an almost day-by-day portrait of Hitler's activities. What emerges is a man in declining health, pumped up by amphetamines, desperate to salvage a failing war effort. Defeats threw him into tantrums. He harangued and fired his generals. One had a heart attack in his presence.
If Hitler were a traitor, he was a consummate actor. For example, he pretended that Rudolf Hess had acted without his knowledge. He ranted and stormed and claimed Hess was mad. In fact,
The Hitler Book
confirms that Hess was a peace envoy acting with Hitler's approval. (p.70-71)
See also, Makow-
Did Hitler Betray Rudolf Hess (and Germany?)
There is another possibility however. Hitler may have been a multiple personality. In his book,
Hitler Was a British Agent,
Greg Hallett says Hitler spent February to November 1912 being brainwashed and trained at the British Military Psych-Ops War School at Tavistock in Devon and in Ireland. "War machines need war and [that means they need] funded, trained and supported double agents to be their patsies, their puppets and their puppet enemies," Hallett writes (38).
His sister-in-law describes Hitler as completely wasted when he arrived at her Liverpool home baggage-less. "I had an idea he was ill, his color was so bad and his eyes looked so peculiar," she wrote. "He was always reading, not books, little pamphlets printed in German. I don't know what was in them nor exactly where they came from." (pp. 29,35) Hallett says these were Tavistock training manuals.
Illuminati brainwashing techniques would explain why our politicians are able to deceive and betray us without compunction.
CONCLUSION
There is no way the Nazis could have come to power without Illuminati Jewish connivance. Fifty years prior, in 1882, Christian leaders conceded that
Jewish control of Germany was insurmountable.
Nazi anti Semitism disguised Hitler's true sponsorship and targeted non-Zionist Jews who needed to be reclaimed for Illuminati Jewish supremacy by
being trauma brainwashed and shipped to Israel.
In the
Protocols
, the author says anti Semitism is used with their consent to manage their "lesser brethren." In the case of the Nazis, it was also used to provoke a world war to increase their wealth and power, degrade and demoralize the human race, and precipitate the genocide of almost 60 million non-Jews, including almost six million Nazi "anti Semites."
World wars are too important to be left to chance. Hitler was an Illuminati agent.
------
Related-
David Richards-
Eight Indications Illuminati Orchestrated WW2
Makow-
Are World wars Orchestrated?