Homeless Man Thinks Charity Begins at Home
September 25, 2016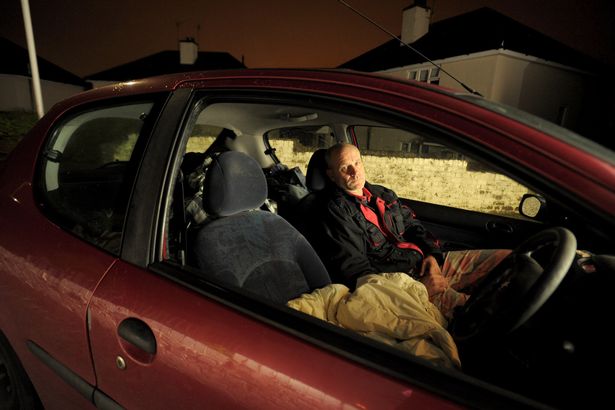 (left, not Jon)
"Jon," a Canadian who lived in his car for a year,
recounts how the experience hardened him.
He wonders why Canada imports refugees and ignores
its own homeless, especially if they are white men.
"Dec 25 2012. I woke up to the rain, crying, sitting in the front seat of my car next to a park. Merry Christmas to me. Each day, I cried as much for society as I did for myself."

by "Jon"

(henrymakow.com)
What bothered me more than living in the car was the absolute lack of concern, compassion, care from society. The people who knew I lived in a car did not invite me for a meal..no Christmas or thanksgiving dinner or a bed..shower. No one came by with extra blankets and goods, or just to sit and talk.
As a man..born and raised in Canada..I was worthless. No Christian, no religious person cared.
The government has an unlimited number of programs for homeless women..and homeless women with children...and refugees, but few for white men.
One's attitude changes after a year. There is an emotional draining that would equal a rusty bucket trying to hold water. And when the rust sets in, it keeps growing. The hole cannot be patched.
People who wish to support refugees have not been homeless. If they had been, they would know we need to help our neighbours first. The Canadian resources are ours collectively. The homeless want their share.
I tell young people to not be nice, to look after themselves first, to understand that their competition is now not only other men, but women who get more government help, and immigrants.
Those wishing to return to the "good old days" are never going to see that time again. I hope they have good memories and lots of photos.
-----------------------
Dec 25 2012. I woke up to the rain, crying, sitting in the front seat of my car next to a park. Merry Christmas to me. Each day, I cried as much for society as I did for myself. Not a very fun year.
I'm going to write the anti-redemption story. Most of my life I did the right thing, I followed the golden rule, I gave when asked, I put other's needs before mine. Now......I'm selfish; I no longer care for others; I am trying to be greedy and I push away every others group that has their hand out.
I'm almost normal... I'm almost happy about my new attitude. I'm colder and less compassionate towards even the homeless. I'm angry, bitter, frustrated.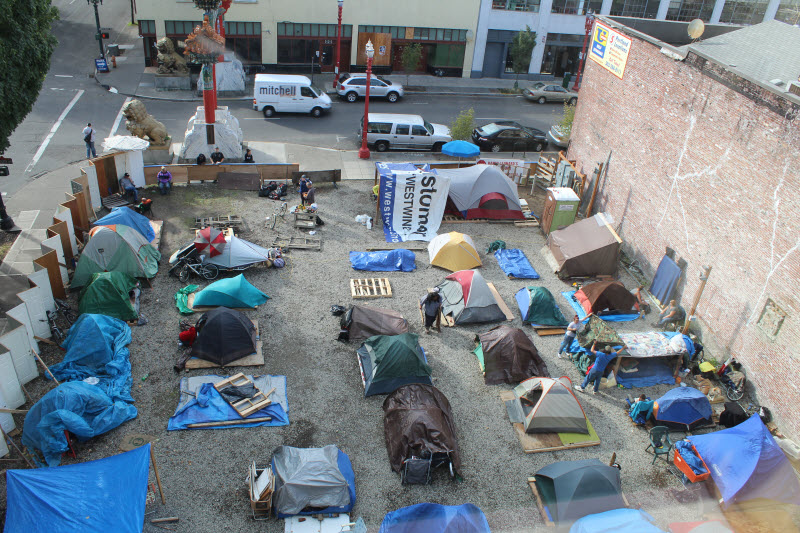 (left, homeless camp)
I watch 30,000 extra refugees who are getting homes and food, schooling, clothing, money, social interaction. More than half of the people of Canada care about them. People are doing all they can to reach out to help them. My governments are using this for photo ops for their next elections. No politician invited my to their home for a cup of coffee.
Bitterness is an emotional cancer that kills the host. I have to hide the fact that I was homeless. One year being homeless has taken multiple years off of my life. I can see how people can turn to drugs and alcohol in order to fill their emotions. I didn't. [I turned to] Hate.
--

Simple the lack of human contact will drive a person mad.

People think that I'm strange for spending a minute patting their dog in order to feel another loving living creature without the judgement.
The endless time thinking about how I'm screwed up or society or both. Billions of people, but no one cares about me. How is this possible?
What did I do wrong?..................most people didn't know. But those who did care were helping others overseas. The refugees or starving people in Africa...but I was right in front of them and they looked into my eyes and by their lack of action told me to "fuck off and die." So you each day you start to believe it. And now you're in a negative feedback loop of hopelessness and helplessness.
And any computer programmer knows that a feedback loop needs an external input to break this action-inaction-action.
Sadly, I think that my experience is going to be more common in the West. Some have more, others a lot less and more people are going to feel the need to be selfish as a form of self preservation.
-------------------------------
Related- Dan Abshear - Living in My Car
Dan Abshear- How to be Homeless
With price of housing, many choose to live in vehicles.
First Comment from Harry:
I was homeless for more than three years in the 1970s, and the problem here in England is that if you don't have a postal address, you don't exist.
In theory, welfare is available for anyone who needs it and is mentally and physically strong enough to fight for it, but without documentary proof of a legitimate postal address, you become an unperson. How does one obtain a tenancy agreement for a shop doorway or a cardboard box?
Councils say they'll honour their stated obligation to house the homeless, but then they insist on that piece of paper proving "the homeless" are really not homeless at all.
The only time a homeless person officially exists is when he's being harassed and threatened by the police, or after some bastard sets fire to him while he sleeps.
I was eventually rescued by a businessman with a conscience, but most homeless people aren't that lucky.
Now that I'm physically disabled, I have a different problem, aggravated by the rapefugee invasion.
I can't stay where I am because of my disability, but I can't move to more suitable accommodation because landlords are cashing in on the invasion by "economic migrants" (NOT refugees), who receive far more in welfare payments than a disabled Englishman (or woman) could ever dream of.
I can't work, so depend on the state for my income, and rent allowances in each area are "capped" at far LESS than the amount demanded by landlords.
I'm stuck. I can't live here and I can't move to something more suitable. Houses are going up everywhere, many in flood plains, but these are for the wealthy, who buy them up to rent out to rapefugees at high rents paid by the government.
Something has to change.