Desperate to Stop Trump, Bankers Hype Harassment
October 14, 2016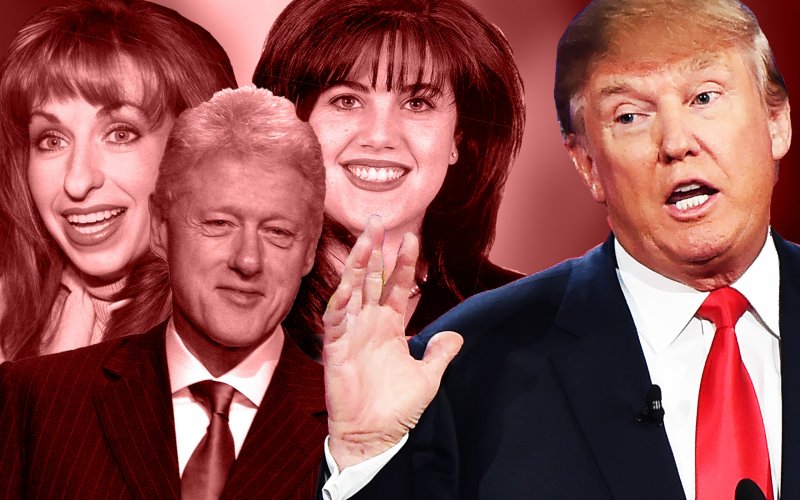 ZIONIST JEWISH FEMINIST MAFIA COMING AFTER DONALD TRUMP
It's apparent that we do not have a free press. The media's collusion in
9-11 and false flag terror should have been enough, but the current bias against Trump is truly jaw dropping.
The media is headlining every female Trump has ever propositioned
while at the same time ignoring Hillary Clinton's role as Bill Clinton's
enabler and protector in far more serious sex crimes.
by Garth Sherwood

(henrymakow.com)
Since the Feminist movement in America is funded and controlled by Illuminati Jewish Bankers, it's not surprising that this Feminist Mafia acts at the behest of this banker entity to target and attack their enemies.
To that end, right now Donald Trump is in the cross-hairs of the banking cartel, because he is against the Military Industrial Complex; and he is "America First," not "New World Order ('NWO')" based in Jerusalem first.
He is against the Illuminati doctrines of borderless nations, abolishing of the family, eradication of organized religion (especially Christianity.)
He is willing to work with Russian President Vladimir Putin to destroy ISIS and global terrorism funded/created by Western/Saudi/Turkish/Israeli (Freemasonic) Intelligence.
He is an alpha male with a healthy (not excessive) love and respect for women; he is against foreign nations being dependent on the USA for all of their military, financial, security, and social needs.
Above all, he wants to strengthen and empower America, not throw it on to the trash heap of history after being "fucked and cucked" by the powers that be, only to create a NWO headquartered in Jerusalem.
All of this has earned him the undying ire and hatred of the Illuminati Freemasonic Zionist Bankers, the literal embodiment of Satanic Luciferian ideology on Planet Earth, because, just like Putin, he stands in their way of global governance and the enslavement of the world's masses.
Therefore the Zionist Feminist Mafia, headed by such whores as California Feminazi Attorney Gloria Allred, are now in a "recruiting drive"
designed to draw each and every woman out of the woodwork, over the past 50 years, who ever may have had a sexual dalliance or relationship with Donald Trump, in order to use the Clinton-Biden enacted Violence Against Womens Act ("VAWA") Law (which calls for mandatory arrests of the accused even without evidence or probable cause) in order to nail him to the wall, and to take him out of the Presidential Race.
Instead of outright assassination, the
Illuminati Jewish Bankers have found that this mechanism of political character assassination and unfair, non-evidence basis, "hearsay" type of allegation, even from decades ago, is the most useful and effective way to discredit, defame, slander, libel, intimidate, and remove from society those men whom they deem to be threatening to their agenda of global conquest.
It's very important that the American People (men and women alike) recognize that the same bankers who are killing innocent men/women/children all around the world, are completely and totally behind this VAWA-based assassination technique, using the "stupid useful idiots" of rabid Feminists and the captive media.
The very ironic side-bar result of this was the fact that the useful idiots President Bill Clinton and Senator Joseph Biden, who wrote and enacted this draconian unconstitutional STASI- like federal VAWA Law, are also the greatest violators of them.
Countless stories of rape, child molestation, sexual assault, pedophilia, and domestic violence continue to dog these two jackass politicians, but they are never prosecuted or investigated , even when there are mountains of video, scientific, and testimonial evidence, because this type of "immunity" was their reward for getting this federal VAWA law placed on the books.
----
Related