Harassment Rules Herald Orwell's 1984
December 29, 2017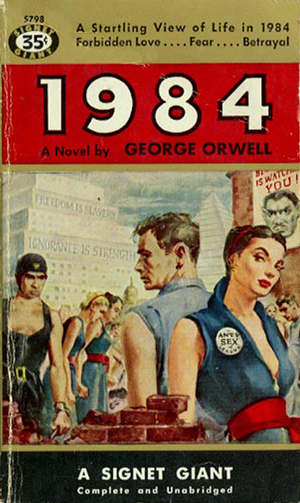 (Woman's button says, Anti Sex)
Workers at NBC are required to report
all suspected romantic liaisons, or be fired.
Orwell's 1984:
"Unlike Winston, [Julia] had grasped the inner meaning of the Party's sexual puritanism. It was not merely that the sex instinct created a world of its own which was outside the Party's control and which therefore had to be destroyed if possible. What was more important was that sexual privation induced hysteria, which was desirable because it could be transformed into war-fever and leader-worship."
by Henry Makow Ph.D.
Soon, working for NBC will be like living in Orwell's dystopia 1984 where sex and love were banned. Rules instituted to punish sexual harassment could be extended to ban certain political and social views. Sexual harassment may be a wedge to introduce wider totalitarian control.
The New York Post reports that, in the wake of the firing disgraced "Today" show host Matt Lauer, "NBC employees have been ordered to report any inappropriate relationships in the workplace -- and if they fail to do so, they could be fired for covering up for colleagues.
'Detailed rules also have been issued about conduct in the office, including how to socialize and even how to hug colleagues.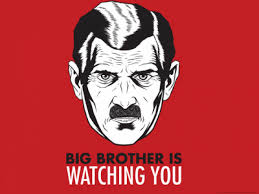 (We are asked to be informers.)


"A source says, "Romantic relationships at work are not exactly unusual, but now NBC says it is taking a zero-tolerance approach. Staffers have been told that if they find out about any affairs, romances, inappropriate relationships or behavior in the office, they have to report it to human resources, their superior or the company anti-harassment phone line. Staffers are shocked that they are now expected to snitch on their friends.
"Plus, there's been a series of ridiculous rules issued on other office conduct. One rule relates to hugging. If you wish to hug a colleague, you have to do a quick hug, then an immediate release, and step away to avoid body contact.
"Also there's strict rules about socializing, including [not] sharing taxis home and [not] taking vegans to steakhouses."
I believe everyone should behave in a professional manner in the workplace. Sexual favors should not be offered or extorted. People should not have to deal with unwanted sexual attention. However, forcing people to report suspicious romantic nuances is redolent of a police state. Let aggrieved people make their own complaints.
Workplace norms could easily spread to society as a whole and be applied to
political and social opinions. People are already being fired for opinions expressed on social media. I don't believe in thought crimes. We have laws to cover real crimes.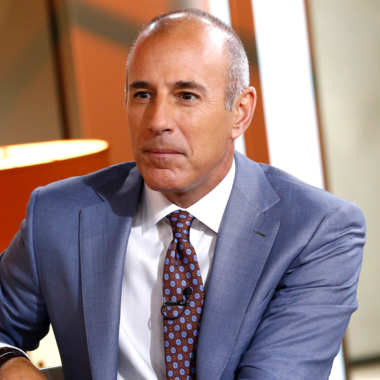 ( Matt Lauer.
No one is too big to be thrown under the bus.)
Central bankers have targeted Westerners for dispossession and enslavement because they are considered an
impediment
to world government tyranny. This is clear from the relentless attacks on gender, race (migration) religion and family. NBC's action must be seen in terms of a long-term agenda to make
heterosexuality into a pathology
. Homosexuality is considered the new healthy norm.
Illuminati magicians (social engineers) have used porn and promiscuity to degrade all human relationships to level of sex
. This is how most gays think.
Heterosexuality is very much about males overcoming female resistance in a gentlemanly manner. If NBC's rules become widespread, men will hesitate to ask a woman for a date. Spurned women will seek revenge by claiming harassment just as minorities claim discrimination.
People meet on the job. You can't police human attraction. Where will it end? Glances? Staring? Smiling? Flirtation?
Both Orwell's
1984
(1932) and Huxley's
Brave New World
(1949) banned love, marriage, family, and in the case of 1984, sex itself. These novels were not "dystopias." They were predictive programming, not so much prophecies as foreshadowing.
NBC's sex
harassment
rules are an egregious intrusion on personal freedom and human dignity, and set a disturbing precedent.
----------------------
Related: Article shows how sexual harassment has become a societal issue, and there is no agreement on what
constitutes
it. In the Protocols of Zion, the author promises to catch people in a web of Talmudic laws.
A Reuters/Ipsos national opinion poll, released on Wednesday, asked more than 3,000 American adults to consider eight different scenarios and then prompted them to decide if they would personally label each to be an example of sexual harassment. The variation in responses showed a need for employers to spell out expected standards, employment experts said.
While most adults in the Dec. 13-18 poll agreed that acts such as intentional groping or kissing "without your consent" amounted to sexual harassment, they disagreed over a number of other actions.
When asked about "unwanted compliments about your appearance," for example, 38 percent of adults said this amounted to sexual harassment, while 47 percent said it did not.
Some 41 percent of adults said they thought it was sexual harassment when someone told you "dirty jokes" but 44 percent said it was not. And 44 percent of adults said that nonconsensual hugging was sexual harassment, while 40 percent said it was not.
The U.S. Equal Employment Opportunity Commission, a federal agency that enforces workplace discrimination laws, says sexual harassment can include unwelcome sexual advances as well as other verbal or physical conduct of a sexual nature that affects an individual's employment, interferes with their performance or creates an intimidating or hostile work environment.
But courts have disagreed on when individual actions cross the line into harassment. And many workplace sexual harassment cases are settled by employers before they ever reach a court, so there is not a constant judicial airing of standards.
TOUCHING AND HUGGING
Since people come to work with different ideas of what is appropriate, managers should train their employees and develop clear lines of conduct so that there are no misunderstandings, said Suzanne Goldberg, director of the Center for Gender and Sexuality Law at Columbia Law School.
"The onus is on employers" to set the tone, Goldberg said. "Even if the co-workers don't object or go to management to complain."
In the Reuters/Ipsos poll, for example, 19 percent of men said that touching someone intentionally without their consent was not sexual harassment, compared with 11 percent of women. The poll did not specify exactly what was meant by non-consensual touching.
(Continues)