The Devil is Money
October 5, 2018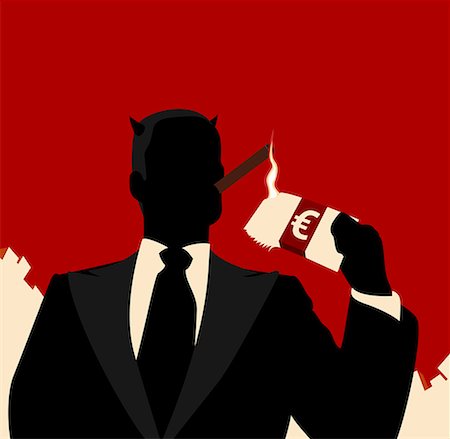 (Devil worshippers create money and use it to cast an evil spell over us.)
The NWO is dedicated to enslaving us spiritually.
Money is its primary instrument.
For the love of money is the root of all evil. Timothy 6:10
"None can be an impartial or wise observer of human life but
from the vantage ground of what we should call voluntary poverty."
by Henry Makow Ph.D.
We scoff at the idea of Satan but we wrestle with the devil every time we focus our energy on money.
People who live pay check to pay check have an excuse but for most people, the wolf is not at the door. Rather,
we suffer from a spiritual malaise.
The stock market is a giant casino. Everyone in the world can trade from their smartphones.
The technology is magnificent, I grant that. But the effect is to enslave billions to the all mighty buck. Gambling is fun when you're winning but read "conversations" on
yahoo finance
(individual stocks) to see how many people are getting skinned alive and are feeling the pain.
Checking stocks constantly. Feeling the rush or the sinking feeling in the gut. This is what slavery looks like folks.
Enough is always a little more than one has. There is never enough to sate a spiritual hunger. Even Illuminati trillionaires like Jacob Rothschild gamble.
In the form of debt, money is a far more palpable form of control.
THE STOCK MARKET
The stock market is a giant ponzi scheme. Everyone who buys a stock does so in the expectation they will sell it to another sucker at a higher price. There must be a constant supply of buyers to maintain the price, like sand pouring on the top of a hill while the bottom melts away.
The stock market today is driven by sentiment not earnings. Certain stocks are hot; others are not. Evaluations today often are based on what a company might be worth in five years under ideal conditions. Companies with solid businesses and profits often are wallflowers.
For most of us, poverty is a state of mind. But w
e have been hypnotized. Instead of being taught to live within our means and devote our energy to serving God in some way, we have been taught to seek as much money as possible. Get it? Serve the devil.
"No one can serve two masters. ...You cannot serve both God and money." Mathew 6:24
We have also been conditioned to shut down at the mention of God or scripture. More proof of our satanic possession. They block the way to happiness.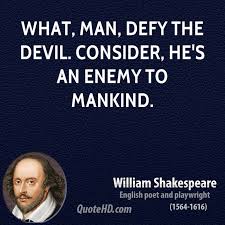 We can reject the devil if we refuse
to think about money
. We need to
mortify
ourselves to the world. We need to
consecrate
ourselves to God. Of course, we can best do this if we
secure our basic material needs.
This is the salvation we are really seeking. (I assume I am not alone.)
"MONEY"
"Money" is an abstraction, a medium of exchange, a measure of value that can magically transform itself into almost anything. Money is the blood in the body politic, the electricity in the global matrix.
Every day hundreds of millions of financial transactions take place. Do you think actual "cash" changes hands? That would be impossible.
The only thing that changes is the number of "credits" in your bank account.
Beyond satisfying our material needs, for many of us, money is a diabolical spell that keeps us asleep. We die without ever having really lived. That's why there is such a cynicism and despair in society. (Is it just me?)
The banks are all franchises of the central banking cartel. So essentially, they keep the Ledger. It makes sense that people who want to destroy our gender identity also use
money to enslave us
.
Banks all promote the progressive (i.e.Communist) agenda. They fund gender dysphoria and hire mostly minorities ("multiculturalism" "gay rights", i.e. anti-Euro Christian discrimination.) Does it make sense for us to entrust our "money" to these people?
I won't go into sex here, but sex is the number two method of enslavement. Men have been brainwashed into seeing every woman in sexual terms. Can you blame female for behaving accordingly?
I know I am cutting my own throat here but don't just tune out money. Tune out the world!
Any society that has banished mention of "God" (i.e. the Design of Creation) is a satanic cult. Secularism is just a mask for Satanism.
We don't want to vibrate at their frequency.
I am speaking to myself here. I should restrict my contemplation of the madhouse that passes for the world to just an hour two or three times a day. The rest of my time should be dedicated to something better. We don't know how to worship God. We must turn away from the world to find out.
We talk about "draining the swamp." We need to "drain the swamp" in our being. We all wrestle with the Devil every day.
First Comment from JG
I can't think of a better example of money enslavement than what a friend of mine goes through every day.
He has inherited wealth that he has invested and is held captive by his computer with the stock market results hour after hour.
He lives in a large home but admits he's only using basically two rooms.
He's also an admitted alcoholic and tells me he has to drink because of all the pressure involved in keeping his fortune.
He has known some nice women but his relationships seem to fall by the wayside not long after he has been dating them. He tells me they are just interested in money.
Sounds like enslavement to me.