Can a Monkey Be a Mensch?
December 14, 2019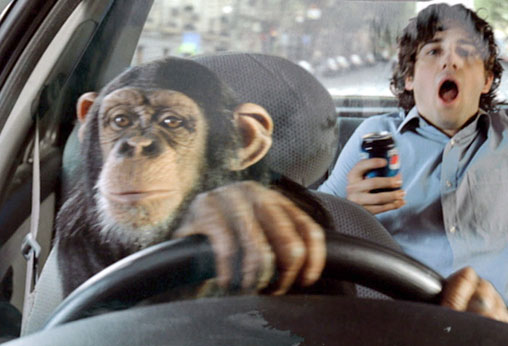 The purpose of human existence is to express our godliness.
Human beings are monkeys
who have a soul, a spark of Divine
Consciousness.
The cosmic conflict is played out
in a battle for the human soul,
between man's monkey instincts
and his inner Mensch.
by Henry Makow PhD
It is a constant struggle not to be an asshole. Not everyone succeeds.
This battle is waged both collectively and personally. I see it in myself.
Waiting in a line, impatient, my monkey shoots the frumpy woman delaying me and dumps her body in a pit. But my mensch reminds me that she has the same claim to happiness as I. Be patient.
My monkey cheers when he reads that a boatload of migrants have drowned. But my mensch reminds him that they are denied the necessities of life by Cabalist imperialism.
My monkey objectifies women and wants to have sex with every attractive woman he sees. My mensch reminds him that women are people and not sexual utilities. (Feminism has reduced women from beloved wives and mothers to volunteer prostitutes.)
My monkey is identified with his money. He grows or is diminished according to fluctuations in his trading account.
I am two people. My monkey is greedy, selfish, cowardly, impatient, lascivious.
My Mensch is compassionate, Loving, fearless, patient, at Peace.
Who drives and who sits at the back?
This is constantly the issue depending how Conscious I am.
Consciousness = Divine Spark = Godliness.

There is nothing stopping me from being the person I want to be. Except laziness and lack of focus.
WAR FOR THE SOUL OF HUMANITY
This is also the conflict facing mankind. Our Cabalist masters eliminate any acknowledgement
of our Divine connection, better to enslave and cull us in contrived wars.
This is the essence of the Satanic assault. The world is run by assholes. Humanity is walking a tightrope.
Cabalists have alienated us from God when God is the only path to the fulfillment and happiness we all seek.
Thoreau said we cannot achieve what we do not aim for. We must express our Divinity. That is the purpose of life.
Despair feeds Satan's cause. Faith affirms God's plan. Faith = a light in the darkness.
Who drives and who sits in the back? It's a constant negotiation between ape and mensch.
Ape cannot be ignored completely. We are both.
The beast must be fed. A hungry ape is harder to control. He lives in an ape-dominated society.
Be Positive. What's happening here is a Miracle. Life on Earth is an ineffable Gift.
Self control. Self discipline. Self mastery. These refer to soul (Self) in the driver's seat.
Who are we going to be? Angels sent from God to create Heaven on earth?
Or demons determined to prevent it. Heaven or Hell of our own making?
Personally and collectively, our choice is to be Conscious or remain asleep.
---------------------