July 4, 2020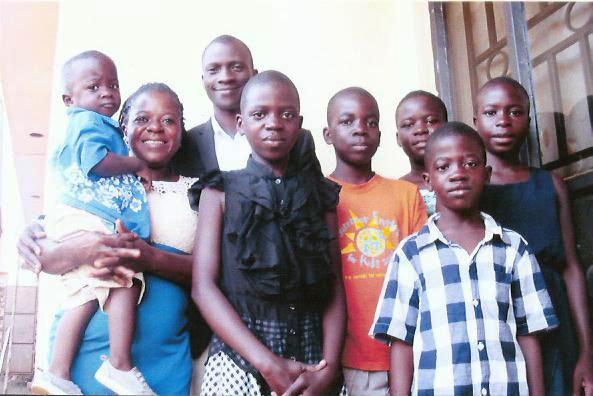 (left, James Mubiru, his wife Emilly, and their six children)
The Pure Love of Christ: Testimony of James Mubiru
James plans a Christian Ministry while his wife minds the grocery store financed by readers of this site.
"Beloved, let us love one another: for love is of God, and every one that loveth is born of God and knoweth God" (1 John 4:7 KJV)
by James Mubiru
(henrymakow.com)
Dear fellow readers of Mr. Henry Makow's site, I testify to you that God is the ruler of this universe and satan will be defeated.
I thank all those who contributed to the grocery through Mr. Henry and my family is greatly blessed to have a source of regular income for the basic needs. Please, thank you very much for your assistance and I look forward to updating you about our progress as time goes on.
Also, I will update you about my Ministry here in Uganda. I have a divine calling from God to spread HIS TRUE WORD as found in the holy scriptures (The Bible).
It is not an easy task in this wicked world. It takes a brave heart and great faith to accomplish the divine task.
I testify that God is the ruler of this universe and we only need to put full TRUST in HIM. HE REALLY LOVES HIS CREATION AND CARES FOR ALL HUMANITY REGARDLESS OF RACE OR NATIONALITY. WE ARE ALL EQUAL IN GOD'S EYES.
Satan and his agents are trying to blind humanity by bringing panic and fear in people's hearts. That can be seen during this global crisis caused by COVID-19 Scamdemic. This has brought much suffering and misery among nations, especially the poor nations on the African continent. I personally have a first hand experience living in poverty as
I explained in my previous article
.
I now have great hope to take care of my family. Praying and Fasting is one of the spiritual weapons to overcome the enemy of all righteousness.
Also, I am learning a lot from Mr. Henry Makow's website. I now know those behind all these sufferings and misery in the world. Satan's agents whose motive is to enslave all humanity and destroy God's plan of Salvation but that will be impossible if we put our full TRUST in God.
This is a real war between powers of darkness and powers of LIGHT. Which side are you on? That is the question each one of us should ask ourselves. Thank you for loving me and my family dear Brothers and Sisters in Christ, This I humbly testify in the name of Jesus Christ, AMEN
--------------