Canada, Australia & NZ Are Still Colonies
December 12, 2010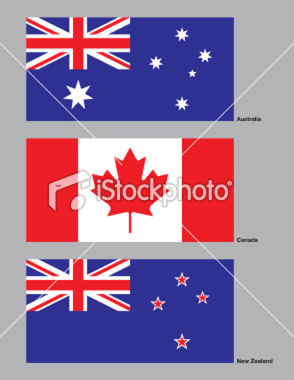 Truthers hounded by thugs.
by Henry Makow, Ph.D





On November 30, Satanist insider Aloysius Fozdyke wrote "I have been busy hosing down an event which could have turned into a disaster for our plans and mission that relates to an alleged solicitor and an interview on American and Internet radio. Fortunately hardly anyone noticed it."

Aloysius graciously provided links to the interview disbarred solicitor Wayne Levick had on the Vinny Eastwood show in NZ. He believes the "sheeple" have demonstrated their impotence and more disclosures won't make any difference.


http://www.youtube.com/watch?v=_aKBbEZciKk&feature=player_embedded
http://www.youtube.com/watch?v=okzKTbVIOCU&feature=related
http://www.youtube.com/watch?v=hJRb3sx0koc&NR=1


The interview confirms that former British colonies, Australia, New Zealand and Canada never actually achieved independence. World government is an extension of the "British Empire" and independence would have been a step in the wrong direction. So they faked it.

This means that the laws, corporations and currencies of these countries have no legal foundation, and that the governments do not represent the people, nor are they in a position to defend their interests.

As Ken Shaw writes on his website, www.basicfraud.com, their "elected Government and entire Judicial Systems are totally unlawful, fraudulent and invalid...This has enormous ramifications when considering International Treaties entered into by the these Governments, any political appointments, the banking laws, the whole Court System, taxation, just to name a few, have NO legitimacy and are totally null and void."

"The governments participating in this fraudulent cover up, do not want the general public to know the true situation, as it is part of their overall hidden agenda to manipulate and control the citizens of these countries.

"Also consider the global ramifications against Queen Elizabeth II and the Royal Family who have knowingly participated greatly in this massive fraud.

"Regarding the New World Order, are then the UN Treaties signed by these Countries valid, as they are not Nations??"

Aloysius Fozdyke, senior member of the satanic Alpha Lodge of Sydney, which controls the Australian government, asked to "make contact with [Ken] as he obviously has special knowledge."

Ken refused saying Aloysius was an agent of the Australian government.

Aloysius continued: "The people behind the website are irritants, that's all. We've already destroyed them. There is not a journalist in the world who will publish their boring material. Shortly their website will cease to exist. Accidents happen! Indeed, sometime ago I was attempting to lure journalists, checking the water temperature, so to speak. No one was interested then or now. QEII is controlled by our people; as is her system."

Ken wrote today, Dec 12: We have been really in a state of shock and were fearful for our safety after being targeted by ruthless thugs, who I can only believe are employed by the Australian Government or big business to threaten and intimidate with the view to keep us quiet. After our website www.basicfraud.com was literally destroyed, our computers hacked, then being followed by supposedly inconspicuous people, unfamiliar cars parked directly across from our homes with 2 occupants within and our home suspiciously infiltrated by professionally skilled thieves, we thought it was time to go underground and to be honest we have until very recently been in hiding.

However it gets to the point when you need to decide what is more important, being fearful of your values and beliefs especially if you are Patriotic and love your country. I know that over the years many thousands of people have given up their lives fighting for injustice within their own Nation. At some stage someone has to stand up to stop these fraudulent criminals from destroying this Country and the lives of the citizens living here. In Australia, even though these evil people control and run this country, whether it is through the Politicians, the Judicial System or the Banks and Multi-National Corporations, they have to be prevented from the continual and blasé actions of their deceptive and despicable behaviour and their hidden greedy agendas.





This article by Ken Shaw is from Aug. 8, 2010.



I have now taken
the opportunity to read some of the Fozdyke material and although I am unable to comment on the Satanism aspects of it, I can say that he appears to have a very good understanding of the political situation in Australia, New Zealand and Canada. He also seems to know about the workings of the British Royal Family and government.
For many years a number of Australians and others have been working to rectify some fundamental constitutional, political and therefore legal problems in Australia. These problems, with minor variations, also exist in New Zealand and Canada. I wish to stress that even with the website http://www.basicfraud.com being down, there is still abundant information available via the Internet to prove all of my assertions. It now appears that maybe it was the Alpha Lodge that had something to do with our website being taken down.
THE CONCEALED COLONIES
When the Commonwealth of Australia came into being on the 1st of January 1901 the Commonwealth of Australia Constitution Act, 1900 (UK) defined it "as a self governing colony." (See clause 8). The monarch of the now defunct United Kingdom of Great Britain and Ireland was sovereign. That monarch gave vice-regal authority to an unelected, monarchy appointed Governor-General.
Prior to the end of WWI American President, Woodrow Wilson began pushing for an international body of nations to attempt to prevent any future global bloodbaths. The British at the time still had a sizable empire. The British government decided that if it kept its colonies these would not get a vote in what became the League of Nations. For purely political reasons they decided to grant their colonies freedom, independence and sovereignty knowing that their former colonies would vote with Mother Britain in the League of Nations.
RULE BRITANNIA RULE THE WAVES!
Ninety years ago the British were still the mightiest kingdom on Earth. Their navy surpassed all others. The peoples of Australia, New Zealand and Canada felt safe with the protection of Britain. Australia and New Zealand were on the other side of the world surrounded by non-white foreigners and Canada was living next door to an America already formulating its own colonial ambitions (by any other name).
Truth be told, with the exception of South Africa, Britain's former colonies didn't want their freedom and they didn't want it for very practical military, political, economic and cultural reasons. It was forced upon them for cynical but again, practical reasons.
World War II or The Great War: Part II
When WWII broke out the Americans were not officially involved, however after America orchestrated itself into that war, there was a problem. At a time when international law still meant something, the American Administration was worried that if its troop fought with Australians, New Zealanders or Canadians, they could be hauled before the League of Nations for fighting with colonists who didn't have the ability to declare war (with the exception of wars of independence only nations can declare war. This is basic international law.). Despite what is often stated, the Statute of Westminster, 1931 (UK) recognized what was the continuing colonial status Britain's Dominions; otherwise why pass it into law? Australia was forced to pass the Statute of Westminster Adoption Act, 1942 (Cth) so that the Americans felt comfortable fighting with us!
At the conclusion of WWII the United Nations was born. As its name makes clear, only nation states could be full members. The Commonwealth of Australia was a founding member.
Now certain pressing questions arise:
1. How can Australia be a free, independent and sovereign nation state if Australia's Federal and State parliaments can't pass laws without the vice-regal signature of an unelected Governor-General or State Governors, all of whom are appointed by a Queen, herself appointed by the Parliament at Westminster? The same question applies to New Zealand and Canada!
2. On the 11th of November, 1975 a democratically elected government of the Commonwealth of Australia was dismissed by a Governor-General appointed by a foreign Queen! The titles 'Queen of Australia', 'Queen of Canada' and 'Queen of New Zealand' are titles for the same woman appointed by the same foreign parliament. The 'Queen of Australia' is not a title found anywhere in the Commonwealth of Australia Constitution Act, 1900 (UK)!
Some Examples of How This Information is Used
Most people think that these issues are esoteric at best, but ask the Japanese government (whaling in Australian Antarctic waters); the American government (with bases on Australian Antarctic territory searching for resources); the government of Sri Lanka (which slaughtering Tamils in the full knowledge that if the truth be told they held a devastating international secret) or the government of Burma (content to securely breach all manner of human rights whilst they hold close their knowledge)? Ask the Israeli government how it can act like a pariah with immunity? Examine the Chinese government's record on dissidents, minorities or the Tibetans and wonder why the governments of the western world kowtow. (The Chinese government has long been aware of the situation but nonetheless copied the website http://www.basicfraud.com several times.)
There is a lot more information and documentation which is held throughout Australia. We merely await a journalist of integrity who believes that they can get this story and these documents published. Once published, we maintain that the United Nations as a front organization for the coming New World Order will collapse. After the economic and political fallout the leaders of the world will be forced to either commit to freedom, democracy and the right to self determination as expressed in Articles 2, 4, 6, 102 and 103 of the Charter of the United Nations or come clean and demonstrate how the world really works.
Our story includes easily provable forgery of the signature of Queen Elizabeth II on an Appointment document for at least one Australian Governor-General, correspondence by Charles the Prince of Wales, lies told by Tony Blair, the complicity of many major British politicians (including David Cameron), interference in the Judicial system of the United Kingdom by Australian Prime Minister, John W. Howard and the unmistakable nature of the United Nations.
Unfortunately we still await a journalist of integrity.
Any further help you or any of your supporters can provide would be greatly appreciated not only by myself, but by all the citizens of Australia, New Zealand and Canada!!
Perhaps Fosdyke is more on the money than any of us initially thought.
Regards and thanks,
Ken
For further information
whilst the websites are still up please refer to:
The ARGUMENT RESTATED
The Charter of the United Nations
http://www.un.org/en/documents/charter/index.shtml
Australia: The Concealed Colony.
http://www.members.westnet.com.au/unrealneil/
Transcript of the film Young & Free
http://members.iimetro.com.au/~hubbca/young_and_free.htm
A Constitutional Timebomb: Is New Zealand's Government and Court system unlawful?
http://www.hiddenmysteries.org/themagazine/vol14/articles/timebomb.shtml