Choose LOVE: One Man's Manifesto
September 20, 2012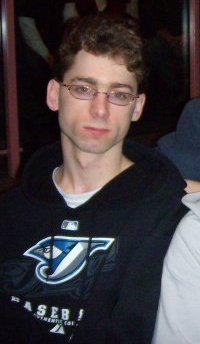 Resisting evil by aspiring to simple spiritual goals.
"I'm a 27 year old Christian Male and I have been looking for a girl-friend for roughly 10 years and even though my story is significantly different (I haven't had sex yet because I'm keeping myself pure for that one girl that I love) I have lived through similar manipulations and cold reactions from woman that Ryan has described. I have found that young women mostly either want to play games with men, use men or have sex with men for fun.
The other way I'm different is that I haven't turned cynical yet. I have chosen to put my faith into God and that he will lead me to a traditional girl! I have heard many testimonies from fellow Christians that this is the best thing to do; live your life, get a job, help others and in time God will connect you with the right person!"
(Maciek Gutkowski has lived in Toronto since his family
immigrated from Poland
21 years ago. He studied radio arts in college and his ambition is to have his own talk show. This is something different.)
by Maciek Gutkowski
(henrymakow.com)
I'll start by saying that I want this article to inspire people to be the best that they can be, in their families, friendships, relationships, marriages and finally jobs!
Second of all I wanted to tell a bit about myself: I have been a born-again or conscious Christian for the last 5 years and in that time I have learned a lot about God, myself and others.
Being that I am fairly young (27) I have no doubt that God has a lot more lessons for me to learn over the span of the rest of my hopefully long life on this beautiful planet called Earth!
Recently Henry asked me if I'd be interested in writing an article for his website and I felt I was ready to give it a try, so I said yes. As I was pondering what to write about, I decided I wanted to write an article about what God has been teaching me and my hope is that at least one thing that I say will resonate in someone's heart and soul! So here it goes...
As most of us can see, our world has been co-opted by "evil doers" and there is no doubt these "evil doers" are leading our world to an evil place and we the regular people have to do something about it, but what? This is my try at the Solution! Before I start I just want to say that these guidelines will not be easy to live by but by even trying to live by them we are practically and spiritually fighting back. Anyway here are my rules to live by in reverse order of importance.
10 - Think for Yourself!
Investigate the world from all kinds of sources and viewpoints before you come to any conclusions. Also whenever deciding on something make the decision yourself. In other words don't do things because "Your doctor, pastor, or an expert on television told you to do it." You are responsible for the decisions you make!
9 - Be Honest!
Try to be as honest as possible with yourself and with others.
8 - Make Altruistic Decisions when Possible!
When possible, make decisions based on the good of the people close to you and mankind as a whole.
7 - Use Power in a Humble Way!
Whenever you have power, try to wield it with as much humility as possible. In other words motivate, inspire and raise the people whom you have power over.
6 - Accept both sides of Life!
Learn to live with life's ups and downs instead of becoming jealous, bitter, or angry.
5 - Treat Others the Way you'd Like to be Treated!
With respect, kindness and love!
4 - Treat People of the Other Gender with Love and Respect!
This seems very similar to #5 but the way sexuality and gender differences are used in our civilization, I believe this warrants its own point. So...
a) Men don't think of Women as lower; they are also created in the image of God! Men don't use women for sexual gratification.
b) Women don't think you have to compete with men but have faith in the Lord! Don't use men by seducing them and respect yourselves and others around you by wearing respectful clothing.
3 - Learn to be Happy!
About your own life and also learn how to be happy for other peoples success and achievements.
2 - Choose Love over Fear, Anger or Hatred!
In other words learn to how genuinely Love yourself. You can't genuinely love others if you don't genuinely love yourself!
1 - Have the Eureka Moment!
Realize and accept that there is an All Powerful, All Loving, All Forgiving, and All Merciful God that Unconditionally Loves every human being on this Earth including You!!!
That's it, the 10 guidelines that could change this world and none of them have anything to do with bullets, weapons, or protesting of any kind. I'm not saying that I'm against those things; I believe citizens should have the right to have guns for their own protection and I believe in some instances protesting makes sense.
But I believe that at least trying to live out those guidelines will be so much more impactful than violence and really will be the best way to protest what the world's Elites are doing! God Bless to all and I'm very interested in any and all responses!