Default? Don't Put it Past Them!
October 5, 2013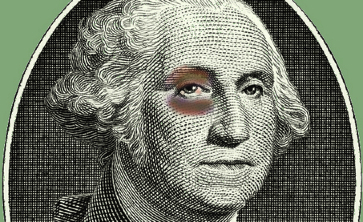 Under Presidents Bush and Obama, the US national debt has risen from six to 17 trillion dollars in just 11 years! But debt is not the real issue. Illuminati politicians might upset the apple cart for political reasons.

"[The 1929 Crash] was not accidental. It was a carefully contrived occurrence ... The international bankers sought to bring about a condition of despair here so that they might emerge as rulers of us all."
----Republican Congressman, Louis T. McFadden, Chairman of the House Banking & Currency Committee, 1920-1931, a staunch critic of the Federal Reserve.
The article below was written in July 2011, but could have been written today. Except, in 2011, fears of a US default caused the stock market to tank and gold to reach an all-time high. The crisis was averted in the last minute by
a debt reduction agreement,(
which was subsequently offset by the Fed's Program of "Quantitative Easing.")
Today when the US government has shut down, the market is sanguine that our political "leaders" will once again avert disaster by raising the debt ceiling. I am not as confident.
Debt isn't the real issue. As the holder of the reserve currency, the United States can print as much money as it wants. It never has to be repaid. They can buy goods and services for nothing. Why not continue to enjoy this privilege?
No, t
he debt debate is a diversion and a charade.
The Tea Party is a creation of
the Koch Brothers.
Our "leaders" are mostly Freemasons. As in the Great Depression, catastrophe may
not
be averted, because of the Illuminati agenda of political and social change. Think of the psychological effect of a US default.
We will never overcome our problems until we address the underlying cause: society is controlled by the Illuminati, a cabalist cult empowered by the central bankers. Put simply, Satanists don't care if the people suffer. On the contrary...
Latest!
Peter Schiff warns of economic collapse and martial law.
YouTube
by Henry Makow Ph.D.
( from July 24, 2011)

Until recently ,
the markets were trading higher on robust corporate earnings and the complacent assumption that the US couldn't possibly default on its debt.
This is an assumption I do not share. After all, we are dealing with the same shady characters who gave us 9-11, Newtown and Boston. They gave us the 2008 credit crisis
by removing all regulatory supervision
.
And that's just recent history. The Illuminati bankers are responsible for all wars and depressions. These are mechanisms by which they concentrate power and wealth in their own hands and enact "social change" leading to world government tyranny.
So why wouldn't their puppets default? The Illuminati motto is
order out of chaos,
isn't it!?
For a New World Order, they need chaos. They need to destroy the US dollar and credit worthiness in order to institute a new one-world currency.
They need to destroy Americans' faith in democracy in order to bring in a new level of international government. They need to disrupt the economy and cause depression in order to make people so desperate they will accept any solution. And they need to make all this seem natural and inevitable.
"I think we're going to slide into intensified social conflicts, social hostility, some forms of radicalism; there is just going to be a sense that this is not a just society,"
Zbigniew Brzezinski told MSNBC
July 6, adding that civil unrest would begin when the lower middle class becomes severely affected by the economic fallout and rising unemployment.
In an 1968 article in
Encounter
,
America's Role in the Technetronic Era,
that seems prescient today, Brzezinski wrote: "The technetronic era involves the gradual appearance of a more controlled society. Such a society would be dominated by an elite, unrestrained by traditional values. Soon it will be possible to assert almost continuous surveillance over every citizen and maintain up-to-date complete files containing even the most personal information about the citizen. These files will be subject to instantaneous retrieval by the authorities."
ACCOMPLICES IN OUR OWN ENSLAVEMENT
Almost
six trillion is owed to the Fed
. It was created from thin air and should be repaid in kind. Just make a digital notation like they did. The same applies to the nearly
$16 Trillion
they gave to other banks during the 2008 crisis.
Tony Blizzard, a Patriot veteran, writes that the only way to escape enslavement is to throw them all out and create our own medium of exchange.
Blizzard: "While the federal liars play their "how to keep borrowing" game, ... (borrowing the medium of exchange into existence), know that there is absolutely NO NEED for any national government to EVER borrow money, much less "credit" (debt), as national governments are the rightful agents to CREATE the nation's money. It is not a right to be handed, free of charge, to a cartel of criminal private bankers such as the Federal Reserve.
"Moreover, government-created money is properly NOT loaned into existence at all but SPENT into circulation for legitimate government projects, there to stay and oil the economic wheels and cogs."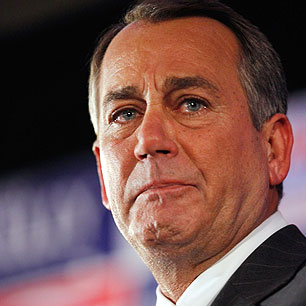 BOEHNER

It is comical to see Jesuit- educated Speaker John Boehner championing the cause of debt reduction.
Like all politicians, he has advanced the Illuminati agenda- getting the country deeper into debt. As Matt Taibbi shows in
"The Crying Shame of John Boehner"
(
Rolling Stone,
Jan 2011) the Speaker built his career by being a conduit for public money going to big corporations.
His major accomplishment was the (at least) $700 billion bailout of the big banks (TARP) which he helped push through, after receiving four million dollars from the financial services industry over his career.
Before that, he helped co-author the "No Child Left Behind Act," a "grotesquely expensive expansion of federal power" which increased federal education spending by 80%. He also passed the obscene Medicare Part D, which Taibbi calls "a staggering $550 billion handout to the pharmaceutical industry."
He helped pass the Bush tax cuts for the wealthy lowering their rate from 40% to 35% -
the lowest rate in the history of the USA.
So while pillaging the public for private interests, Boehner and his crew have tied the government's hands in terms of revenue. Then, they have the audacity to oppose "tax hikes."
I doubt Tea Party supporters wanted to shelter huge corporations and the wealthy when they pledged not to raise the debt ceiling.
Obama just has to sit back and let the GOP take the blame for economic chaos. But don't kid yourself, he is Illuminati and he is playing his part in the charade.
I don't think America will go over the brink, but I think it may flirt with it.
--
Related:
Makow - Fiscal Cliff Increasingly Likely & Desirable?
https://henrymakow.com/going-over-the-fiscal-cliff.html
Related-
Obama the Political Equivalent of a Suicide Bomber?
Geithner - "We're Almost Out of Runway"
"
If all bank loans were paid, no one would have a bank deposit and there would not be a dollar of currency or coin in circulation.
This is a staggering thought. We are completely dependent on the commercial banks.
Someone has to borrow every dollar we have in circulation, cash or credit.
If the banks create ample synthetic money, we are prosperous; if not, we starve.
We are absolutely without a permanent monetary system.
When one gets a complete grasp upon the picture, the tragic absurdity of our hopeless position is almost incredible - but there it is. It (
the banking problem) is the most important subject intelligent persons can investigate and reflect upon. It is so important that our present civilization may collapse unless it is widely understood and the defects remedied
very soon."
Robert H. Hemphill, for eight years credit manager of the Federal Reserve Bank of Atlanta
First Comment by Thom Beecham
This left/right budget/debt ceiling battle all seems to be very intentional and deliberate. Imagine if there are defaults, etc. The globalists can come out of this saying they had nothing to do with it.
Imagine if this goes forward. We could see interest rates rise, and asset prices fall around the world. And the US will be looked upon as the bad guy, which is the plan. Think about the implications.
As I always say, done by design....
Technically are correct about buying things for nothing. However, the debt still is there and someone owns it. I think you and I know who these people are. They are the Globalists, the Synagogue of Satan, the Illuminati, etc.
You and I also know that whoever owns this debt also controls the borrower. This is why we are seeing the United States sink into the abyss. It really has become a satanic nation, and this satanism has contaminated everyone who lives in it. This dark force has usurped control of the US government, education system, media, etc., and I would venture to say that the US is probably now the most evil nation, and that is because the debt holders want it this way.
The debt will never have to be repaid as long as the United States continues to become more and more evil and does whatever these satanists want. If there was a national repentance on par with Jonah and Nineveh, the economy would collapse overnight and the debt would then matter.
The debt may be fraudulent, but the debt is very real to those laboring underneath it. This is why the real economy continues to falter. The cost of the debt is greater than what the economy can service, and monetizing 85 billion a month just cheapens the dollars that are already in circulation. Anyone who doesn't have assets that can keep up with this monetization will continue to fall further and further behind.