Men - Design Your Perfect "10"
September 1, 2018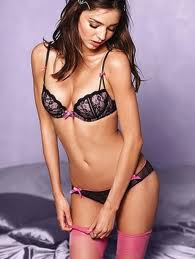 left,
Victoria's
Secret model, the perfect 10?
Reflections on my
cult brainwashing and
what it cost me.
(Revised from Nov. 11, 2009)
by Henry Makow Ph.D.

Lately I have been
thinking about a really great woman I knew when I was 24. I ignored Liz because I wasn't sexually attracted to her. She was pleasant-looking but there was no "
chemistry
."
She had many of the qualities in the left-hand column below, and she liked me. But my tastes and even my ideas had been
formed by PLAYBOY.
Average looking women were literally invisible.
I had been brainwashed by my cult-ure to believe that "sexual attraction" is 90% of what male-female relationships are all about.

Marriages were based on sexual attraction. You had to live together before marriage to make sure you were "sexually compatible." Sex was the Holy Grail.

I was thinking about Liz lately, wondering what her life has been like. Wondering what my life would have been like had I responded to her overture.
It must be hard for really great women to be ignored just because they aren't "hot." I have discovered that all women are beautiful in the act of love.
I was thinking about Liz because at age 68, I realize that great sex is only part of a good marriage, say a third. I don't want to underestimate its importance. Men and women need it and marriage is the very best way to get it.
But good sex isn't dependent on sex appeal. It's about showing affection and celebrating a marriage. We are looking for intimacy, not physical thrills.
Jeez, it wasn't until recently that I understood there is often a great disconnect between a woman's appearance and character.
What if
I knew this back then?
I wouldn't have had three failed marriages by the age of 50, two largely based on sexual attraction.
I am happily married now but how different my life might have been. I
might have had a family.
Men, Design your perfect "10"
You can choose 10 of the 20 qualities listed below. If you choose only from the right-hand column, you will get the woman in the picture above, but she will have none of the qualities in the left-hand column. Put another way, what are you willing to give up for sex appeal? Write and tell me your answer. Give your age.


Character (Honest, Fair) Sex Appeal

Personality (Cheerful & fun) Sex Appeal

Great Sense of Humor Sex Appeal

Intelligent and reasonable Sex Appeal

Skills & Talents Sex Appeal

Warm and loving Sex Appeal

Devoted & Loyal Sex Appeal

Common Beliefs & Interests Sex Appeal
Great conversation.

Incredible Cook & Homemaker
Good mother to your children. Sex Appeal

Unselfish, Interested in Others Sex Appeal

-----
First Comment by Ken Adachi
Women already possess all the sex appeal they need by virtue of being born a woman. It's what they do with the equipment after its issued that makes the difference in what sort of man they wind up with (and I'm not talking about plastic surgery or any primitive alterations to the body; e.g. tattoos, ..ugh).
The Universal Law of Cause & Effect is always in play, 24/7, in every dimension of reality, whether it's the 3rd or the 5th; the same spiritual rules apply. You reap what you sow.
Decent men are attracted to a decent woman because of their decent behavior and attitudes. Women who throw away their self-respect by talking, acting, dressing, or behaving coarsely, wind up with the sort of guy who's turned on by vulgarity and cheapness. Is that who they want for a husband (or unmarried "partner") and father of their kids?
If she shows off her body in public at every opportunity, then she's TRYING to attract a lot of basic, Neanderthals types. Is that who YOU want for your wife and the mother of your kids?
It's how feminine a woman acts, feels and behaves that motivates normal, decent guys. Normal men are as excited by a small breasted woman as they are by large breasted women if the woman looks, acts, and thinks like the soft, loving and vulnerable gift to mankind that they were meant to be by Divine Plan ~ then it's "Bingo": every single time.
It's that gentility, sweetness, and devotion to that one special man that makes life a gift from one end to the other. Look at Audrey Hepburn. A small body in every department, yet how feminine and desirable she was for millions of men BECAUSE of her innate feminine qualities in both appearance and behavior.
Sex is God's way to show us the Light about the more important roles of love, honor - and above all - the heart, in our lives.