Man Revaluates Romance and Finds Himself
April 22, 2011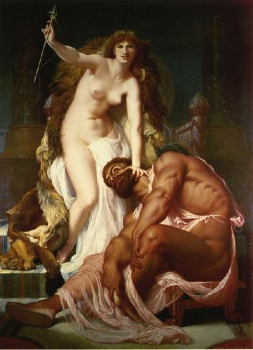 "Men must ignore the social programming [which is] turning us into effeminate little wimps ... Women are ... just people like you and me. They hold as much mystery as a Twinkie."
by John Luceno
(for henrymakow.com) Why was my life being destroyed?
I believed I needed female love to be successful in life. I believed I was nothing without a girl at my side.
Like most males my age, I had been sold a lie. Liberals have been telling us that women are goddesses on a pedestal to be worshiped by all men without restraint.
You don't need to make money, find enlightenment or success in your chosen field. No, all you needed was an attractive woman to complete you.
You must chase them or you are less than a man. You are unworthy compared to them. You are a dumb slob who is only kept around by benevolent women for your seed.
You can see this social dynamic shoved down our throats every day in television ads. The man sitting on the couch with dead beady eyes and mouth open wide with a thin bead of spittle running down his shirt.
He is always in the wrong; his stupidity is unmatched. Comparing him to a caveman is unfair to cavemen.
The woman comes in and sets the man straight. She is standing erect like a statue. Her eyes blaze with intelligence and infinite understanding.
Her bosom is proportional with the rest of her body; perfect symmetry. She rules the roost. She is Athena re-born. Who would you listen to?
Men must ignore the social programming. It is turning us into effeminate little wimps who will always be stamped on by ruby red high heels.
Women are not glowing pieces of flesh with mysteries to be decoded. They are just people like you and me. They, like everyone else on this Earth, hold as much mystery as a Twinkie.
If men spent as much energy making money, on their writing or on their politics, this world would be a paradise. Poverty would be irrelevant, books rivaling the Odyssey would be published on a daily basis and men like Barack Obama would be lucky making a living sucking quarters out of vending machines.
My life after I broke the social programming has not been perfect but it is better than it was before. My head is not clouded with conflicting thoughts of violence and ennui. I feel better, I eat better, I sleep better and I work better.
The results speak for themselves. I am as happy as I can be and my ex, my "goddess," has made a turn for the worse. She is living in a backwards-mutant trailer park town on the ass end of Long Island with a fat troglodyte with fat rolls that undulate like the tides of the ocean.
One day I will be living happy and rich, both financially and emotionally. She will be poverty-stricken living in a trailer with five-cracker spawn that she breast feeds until they are twenty.
There is life outside of the liberal sexual paradigm. Nor is there just life but there is good living.
--
Related- Makow -
"Overrated: Young Women, Romance, Sex, Lobster"