Labor of Love Often More Successful
September 29, 2011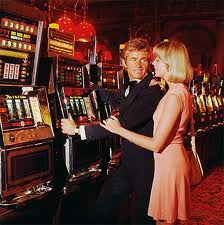 (left, Gamblers at the slot machine of life
,
we are constantly seeking "desired outcomes.
")
Whenever I acted from a selfless place, I was far more successful than when I pursued profit.
by Henry Makow Ph.D.In a recent article
on this site, Robert Cinque suggested that our happiness depends on getting "desired outcomes."
For example, if we are fishermen, our happiness depends on our catch. If we are salesmen, it depends on our sales.
In modern urban society, "desired outcomes" can assume complex formulas. An encouraging email. A friendly smile. Our stocks go up. Our boss likes our report. Our spouse is supportive. Our stocks go down
after
we sell them. All these things can make our day.
Conversely, undesirable outcomes can ruin our day. A speeding ticket. A
moody spouse. A call from the principal about our difficult child. A costly visit to the Vet. An unanswered text message. The boss ignores you. etc.
You get the picture. We try to twist the world into a shape that corresponds to our "desired outcomes." Like chickens in a laboratory experiment, we keep pressing the lever hoping a kernel of corn will come down the chute.
Whether our day has been "good" or "bad" depends on an accounting credits and debits.
Of course, money is the foremost
desired outcome
that we are programmed to seek. A desirable sexual partner is probably the second. Then, there are power and respect.
Is there any way to get off this treadmill?
Robert Cinque believes
we should try!
"I can only be happy as a deliberate choice no matter what the conditions are. Core happiness is not based on the fulfillment of desire or anything else, it is the nature of Reality already and can either be noticed or ignored, but never generated by my personal effort."
On the other hand, how can he discount
personal effort
? Doesn't our survival and well being depend on getting
desirable outcomes
? What about a job well done? Isn't that a
desirable outcome
worth striving for?
Or raising a child to be a good human being? Surely life would have little meaning if we eliminated personal effort and reward.
Robert's answer probably is that we should be motivated by "selfless service" and not be "attached" to the result of our efforts. We should attune ourselves to the Divine Order, and do God's work. Our misery is in our self-seeking.
LABORS OF LOVE
Whenever I acted from a selfless place, I was far more successful than when I pursued profit.
For example,
"Scruples"
the game of moral dilemmas which I invented in 1984 was a labor of love. I would have been content to break even. After
Trivial Pursuit
, I believed that people needed to focus on issues that were not trivial.
I believed people defined themselves in the moral order by their response to everyday moral dilemmas. The game was a seminar in morality which people enjoyed taking.
The game sold in excess of five million copies in six languages. I made a small fortune which I proceeded to squander on the stock market and on an expensive but necessary divorce.
Ironically, my material success led to spiritual failure. I made the wrong moral decisions. Instead of acting from a pure motive, I lost my vision and identified with my money.
When someone asked how I was, I wanted to reply, "Ask my broker." I had become a money manager. I was no longer in tune with Creative Energy.
If I had kept my vision, I would have put my money in a safe place and pursued another selfless task. I would still be relatively rich.
My other labor of love was this website which I began in 2000 to expose the Luciferian conspiracy against man and God. I needed to understand why the "Establishment" was trying to sabotage male-female relations and turn us into homosexuals.
I desperately needed the answer, and shared my quest with my readers. As I wrote in the Introduction to
Cruel Hoax,
it was a labor of love and my readers repaid me in kind. My readers always have been very generous.
No one is going to get rich exposing the Illuminati, on the contrary. But
surprisingly my books sell and I now make a modest income from this work, enough to placate my wife.
Jesus said,
"Cast your bread upon the waters."
Do God's work. Serve Him, not yourself. The Lord will provide.
Perhaps, we need to find the balance between casting our bread upon the waters, and casting our nets.
------
Related Makow -
How's Your Inner Beggar?
"The Market is Fixed" and "Stock Market Porn"