Let's Look at Porn
September 28, 2012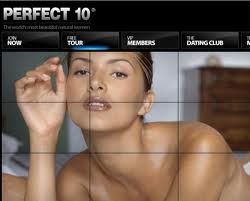 Is porn the "cocaine" of a
debilitating sex addiction or
the expression of natural male sex drive?
Does it perform a useful function by providing a substitute to s
exual intercourse, sparing both men and women a hassle?
Jennifer:
"Please men stop beating your chests that you have such huge sex drives! It is all falsely induced via the drug of porn--get over yourself."

Dan:
"Jennifer was right. What postmodern males believe is an uncontrollable, powerful libido is sex addiction programmed at a early age by media over-stimulation of boys."
by Rich Loomis
(henrymakow.com)
If the above comments were true,
all we would need do is eliminate porn, and lo! Men would no longer be distracted by booty -- problem solved!
Never mind that a similar logic with regard to booze and prohibition quite obviously did NOT eliminate or even mitigate the equally problematic and time-honored human propensity for alcohol.
The fact is, porn is more of an indicator of the male sex drive than its cause.
At base, the Jennifer/Dan mindset promotes the happy illusion that we can consciously negate our biological hard-wiring by just a bit more self-will, discipline, and moral awareness.
While this argument has some truth, it is really suggesting we can potty-train wild sharks via education and acculturation of "higher values" etc. If only this were so!
Sorry folks, nude pictures, or even explicit videos do not constitute the libido, but merely illustrate its logical expression.
WOMEN HAVE LOWER SEX DRIVE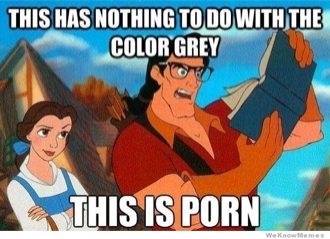 Moreover, if in fact women have a similarly active sex drive as men, why aren't THEY purchasing and devouring porn in similar percentages as men do?
70% of men, versus only 30% of women indulge online porn.
http://articles.nydailynews.com/2010-02-11/entertainment/27056038_1_study-big-issue-problem
Nearly
two out of three women I know believe their sex drive is equal to men, yet are puzzled and annoyed that men can't "behave" themselves like most women.
The fact is, most guys walking down a street are powerfully attracted by virtually ANY well-proportioned woman that walks by -- to the extent that, if they could, they would quite literally halt and embrace the lady, one hand on a breast, the other on her ass, and passionately kiss the hapless woman with total abandon and excitement and with escalating desire for full sexual union.
And then later, having recovered, they would just as happily do the same to the next woman coming within their field of vision, until exhaustion/boredom/satiation alone became the limiting factor.
WOMEN AS SELECTORS
Fortunately for society, women do NOT truly feel the same about men.
W
omen remain the formidable gatekeepers, the ones almost certain to scream "rape" or otherwise stridently resist the ever-present masculine urges.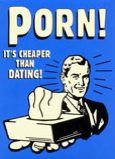 What porn is to most men is simply an equivalent to an electrical short circuit -- a mode that suggests an instant by-pass through the "insulator" or gatekeeper aspect of womanhood. With a magazine or video, one need not jump through all the hoops, meet all the criteria, satisfy all the feminine instincts and filters in order to get to the reward -- the naked and ready female form.
No flowers, dinners, patience-testing listening to endless details about her cat or having to rigorously stifle the natural impulse to note the prominent boobs spilling out of the nearby waitress's blouse, etc, etc.
Porn cuts straight to the chase -- or rather -- cuts straight to the part AFTER the (seemingly successful) chase, wherein at last the legs are spread, one has "passed muster" somehow even with the most desirable and unattainable and normally aloof beauty imaginable!
Even better, one is not judged by subsequent performance, penis size, cunnilingus technique, "sensitivity" to underlying female emotional needs, or any other standard.
No recriminations, no risk of disease, no expectations for further "bonding" or phone calls or meeting the parents or shopping for a house or sharing the bank account, etc.
Is it any wonder that porn is a multi-billion dollar industry?
Which is not to say that the benefits of porn outweigh its detrimental consequences. Nevertheless, for all its attendant negative aspects, porn in itself is NOT responsible for today's apparent laxity or excess.
(Disclaimer: Rich Adds: Let's Look At Porn
was intended as a tongue-in-cheek double entendre, suggesting that we should more closely examine the definition of porn
as presented by Jennifer and Dan,
NOT a recommendation that the public should go online and purchase (or get more than they already secretly own!)


--
The Hidden Agenda Behind Porn
First Comment from Jordan:
I'll try to quickly and succinctly rebut Rich's defense of pornographic consumption and his attempt to root it in human nature.
His premise was that: porn is merely indicative of male sex drive, not a causal driver nor a societal hindrance.
His cute analogy of potty training sharks fails to address the issue that sharks do not live in communal groups as do nearly all humans, nor that a defining characteristic of humanity is the ability to utilize the rational faculties to control the baser instincts or at least to make pragmatic decisions to delay immediate gratification. The popular media (yes porn is popular) profits handsomely by exalting the very opposite pursuit- nihilistic hedonism. The weak shark analogy does not absolve you from accountability for your actions.
His explanation for lower levels of female porn consumption shows a flawed understanding of female sexuality (which may explain his aversion to socializing with them). Female porn consumption at least matches that of men in the form of Romance novels, RomComs, soap operas, Telanovelas, celebrity tabloids, and plain old television programming where emotional empathizing is involved. This is why women read Twilight and it's offshoots (Hat tip to you, Henry, for the graphic allusion).
Females are the sexual gatekeepers on account of their different hormonal makeup and reproductive contributions. The risk and investment involved in procreation for women dwarfs that of men. The shear number of sperm a man creates in a lifetime compared to the finite ovum and small female reproductive window means that men value youth and beauty as indicators of fertility in partners while women value social status and dominance as an indicator of provision for future offspring. Males have an innate drive for sexual novelty; Rick does inadvertently describes the
Coolidge effect
, which is part of the mechanism by which porn becomes something more devious than a mere pressure release valve for the socially inept.
The problem with porn manifests itself in the positive feedback loop of the dopamine response. Simply, Visual image of naked woman → massive dopamine release. Same image repeatedly → gradually decreasing dopamine release, until.... new visual image of naked woman → heightened dopamine release. This process necessitates gradual escalation of novelty to facilitate steady releases of dopamine. This is how the addict becomes addicted. Multiply this scenario over hours a day, for years of a man's formative period spent in anonymous computerized isolation and the escalation may (often does) result in the development of peculiar taboo sexual preferences and need for extremely graphic stimulation to become only minimally aroused. Porn-addiction induced Erectile dysfunction is a commonality now when a single flesh and blood woman can hardly register on the dopamine scale for a man accustomed to hordes of lusty Internet whores engaging in all manners of depravity.
Men's visually driven sexual nature and innate drive for sexual novelty predisposes them to porn use and addiction, which in turn catalyzes the augmentation of the male sex drive while positively reinforcing the avoidance of real social partnerships for antisocial masturbation.