Author Replies to Defenders of Satanist Child-Killers
January 9, 2013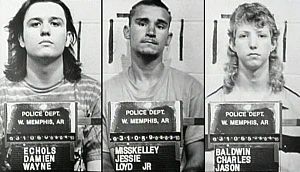 Pat wrote in response to "Liberals Liberate Child Murderers":
I think that these guys may be innocent for several reasons. First of all, they, particularly Echols fit the usual stereotypes regarding Satanism and what Satanists "look" like. As we all know, serious, practicing Satanists usually look like your next-door neighbor, probably go to church or synagogue regularly and look like decent, upstanding citizens.
Secondly, it was assumed from the beginning that teenagers messing around with Satanism must have committed the crimes and no adults, including family members of the boys were investigated. In fact, Damien Echols' was named right away as probably being responsible for the crimes by police officer, Steve Jones.
Again, as we all know, police have a long history of covering up for real Satanic groups. Const. Jones sounds like a "place man" who was there to misdirect the investigation.
In addition, Misskelly was interrogated for many hours before he finally confessed and had a low IQ of 72. There was a lot of evidence that was ignored and not properly investigated. Some of this evidence includes semen, blood and possible bite marks. Much of the other evidence was collected in a sloppy manner and the bodies were removed from the water before the coroner arrived. There was also a good possibility that the boys were killed somewhere else and placed there.
I believe that these three teens could have been fall guys for the real perpetrators and also used later on (being freed from prison) to discredit people who believe that the practice of Satanism is real and make them look like crackpots.
---
Misskelley confessed his guilt four separate times!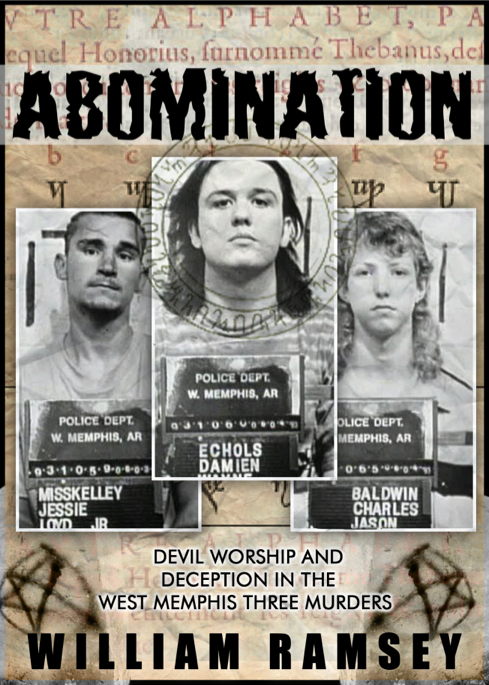 by William Ramsey
(author of "Abomination: Devil Worship & Deception")
First point: Outside of any stereotypes or clothing styles, the actions of Echols prior to the murders are damning. Exhibit 500 alone abundantly indicates his obsession with witchcraft and his mental instability. I cite from this evidentiary record in my book.
Moreover, after the murders, numerous West Memphis citizens offered information to police about Echols's behavior prior to the murders, including him masturbating in a bush while watching two young girls headed to church on a Sunday morning. This info was not germane to the murders, but provided additional insight into Damien's character. This information is in my book.
Second point: Police were notified almost immediately that Echols and his group were capable of the crime. Echols was questioned the day after the murders, and the information he provided was used against him at trial.
One of the more vital statements by Echols to police was that the murderers probably threw the boys in the water to hide the fact they were urinated upon. Only someone at the scene of the crime could have known that fact, as the medical examiner did not discover urine in the stomachs of two boys until autopsies were conducted. The results were not provided to police until May 16th---eleven days after the murders. This is in the book.
Third point: Additional police were added to the murder investigation from the Crittenden drug task force. They worked to eliminate local mental cases, pedophiles and sex offenders from suspicion. Most of them were interviewed and the records of those interviews exist. I read them---all of them. An entire appendix in my book covers the over thirty people interviewed and removed as suspects.
Fourth point: This talking point repeated ad nauseam by supporters abundantly indicates the near total ignorance and idiocy of people who think the West Memphis Three are innocent. Misskelley spent over ten hours at the police station, but half that time was used by police to obtain permission from his father (he was under 18 at the time) and in preparation for his polygraph test. The actual interrogation lasted no longer than 4 to 5 hours (which is still a long time) and was punctuated by frequent stops. The record exists, and this information is in my book.
In addition, right after the trial of Misskelley, which resulted in a unanimous conviction from twelve jurors, who also sentenced him under Arkansas law, he confessed to the police who drove him to jail. Once at jail, he put his hand on a Bible and confessed again. Then the prosecutors and his defense attorneys drove to the jail, and against the advice of his attorneys (recorded on tape) Miskelley provided a detailed confession again!!! Then he confessed to his cellmate. This totals four additional confessions after his conviction. All recorded, all on paper, all in my book.
No evidence of coercion--he walked past his attorneys and spoke into the tape recorder and said "I want something done about it." Moreover, Baldwin and Echols admitted the murders to separate people who testified in their court trial.
The investigation had problems with evidence, and DNA and luminol weren't available for use in 1993. Misskelley isn't bright for certain, none of them are really. In my opinion, his defense knew the closer his IQ got to 70, the easier it is to impeach his pre-trial confession.
I would be happy to answer any additional questions you have. The defense intentionally data-fogged the case record. I suggest you read the book.
l
ts not my opinion, but based upon information from the investigation and trials. All my references to the investigation are footnoted.
---
--
Reader Praise for Ramsey book:
"'Very hard to put your book down!!!! Thank you much for your research - I now can say without a doubt the justice system failed - there are at least 3 murderers roaming the streets."
----
"Thank you Mr. Ramsey for this excellent book. I finished the kindle version yesterday. It was about time someone wrote a book about the guilt of the WM3. Now, I hope someone will do a documentary about the truth and counter the very biased untruthful Paradise Lost documentaries.
------
"I've been following the WM3 case for quite some time and my interest further elevated when the three child murderers were released from prison in August 2011. This book covers the crime and the trials, other occult type murderers which resemble the WM3 case, and educates the reader about the occult and proves that Damien Echols was interested in the occult before, during and after prison. It also delves deeply into the MULTIPLE confessions made by Jessie Misskelley, Jr. and dispels all the myths about the so called "12 hour coerced confession". This book is a very interesting and eye-opening read and an excellent reference to have if you are a serious non-supporter of the WM3. It's about time someone stepped up to counter all the lies that have been perpetrated by the Paradise Lost documentaries, biased books, clueless celebrities, untruthful media and the slick WM3 PR machine.
--------
This is a book you can not put down once you start. How the three were ever
let out of prison is a mystery to me. So many well researched and documented facts and interviews would convince any reasonable person that the three hideously murdered those children. It scares me that these devil worshippers are actually living free among us. God help us!