Marijuana Legalization : What is the Social Impact?
September 29, 2018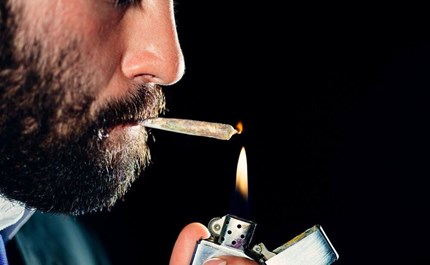 The Purpose of Life is to wake up. To catch a glimpse of the Divine.
Stone is more pessimistic. I post his missive below and welcome
response from people who have anecdotal answers to the question
posed in the title.
by Mike Stone
(henrymakow.com)
I think the cultural effect of legal cannabis is horrendous.
I do not use it, although I have tried it in high school and again once in my 20's.
I have two older brothers who both started on grass, became hooked, and moved to other drugs. Both ended up in prison due to crimes they committed while high. One completely fried his brain. He's dead.
When I was 19, I worked in a bar. Three of the bartenders smoked a lot of grass and ended up murdering some guy because of a drug deal. They cut off his head, which was never found. These were young guys in their 20's. One guy turned against the other two and got off. I'm sure the other two were both sentenced to life.
I've seen drugs ruin so many lives I can't count. A guy I went to high school with was the best running back in the state, one of the best in the country. He could have sailed through college on a football scholarship and turned pro. Instead, he got hooked on grass and never went anywhere.
At that time, nobody's parents knew what the heck was going and nobody seemed to care. People were so zombied out by television, they seemed powerless to do anything.
I'm in Vegas where pot is legal. If Disneyland is the happiest place on earth, then Las Vegas is the slimiest place on earth. The entire city is built on the concept of fleecing people out of their money.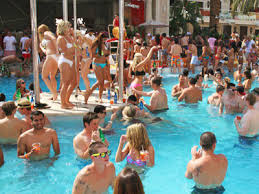 I went by the pool at the Golden Nugget yesterday afternoon. It was like a scene out of Sodom and Gomorrah, drunken, half-naked fools everywhere. Women with hardly anything on.
I admit, it produces a momentary thrill, but at the same time, it's completely disgusting. Modesty and charm are like ancient artifacts. The saddest part is all the children I see here and the foreign tourists. Adults, who don't know any better, bring their young children with them to Las Vegas and they're exposed to all the decadence.
I passed a Japanese girl on the street yesterday. She looked to be around 21 and she was pulling her luggage behind her. She had a look of immense sadness like she was ready to cry. She probably saved her money for over a year to come to Las Vegas and found out real fast what a waste her dream vacation turned out to be. I'm still thinking about her.
People don't know how to be human anymore. They're so drugged up from grass, alcohol, chemtrails, medications, and chemicals in their food and water that they can't think straight. Then they're bombarded from all sides by pornography, fake news, illegal immigration and Hollywood filth. American culture is dead if it ever even existed.
There are fewer and fewer places for people to turn. The Catholic Church, which built Western Civilization and which has accomplished more good for more people than any organization in the history of the world, has been completely taken over and subverted by Communist scum since Vatican II. The New Mass is not even valid. We are truly in the end times as prophesied in the Bible and as foretold at the Lady of Fatima apparitions. Sister Lucia - the real Sister Lucy, not the impostor Sister Lucy - was one of the seers at Fatima and she even admitted that we are in the end times.
It seems as if the only way to survive in the world today is to detach from the world as much as possible. I think the solitude that
your latest essayist, Evelyn,
experiences on her farm is one of the reasons she is so clear-headed and loving.
Mike Stone is the author of It's Okay To Be White and A New America, the first novel of the Alt-Right, a dark comedy set on Election Day 2016 in Los Angeles - - Available exclusively on Amazon.
First Comment from David
Henry, I came of age in the late 60's when recreational drugs like grass, acid, hash and speed became widely available (though all were illegal at the time) in America. In high school I experimented with grass, hash and acid, (I drew the line at cocaine, speed and heroin) but gradually came to realize that in the crowd I ran with, drugs were ALL we had in common. Friendship, loyalty, ambition, looking to the future, didn't even enter the equation. The hardcore users (most of them were dealers too) that were our role models in those years turned out to be the biggest losers in life and many of them died early deaths from the inevitable. One of them that I used to get high with was actually a childhood friend, academically smart, from an affluent family and a very talented tennis player, who gradually descended into the netherworld of hard drugs like cocaine and heroin. One night he was in so much pain from kidney stones brought on by his habitual drug use, he went to the local ER. The staff refused to treat him, thinking he was just another hippy who wanted some free painkillers; he went home and tried to self-medicate with a massive injection of Demerol and died in a corner of his attic. With his background, the world could have been his for the taking.
I finally wrenched myself loose of the whole subculture by my junior year in high school. I still think drugs like grass, hash and acid can unlock psychic potential in truly creative persons, but it's a razor's edge that can easily cut the other way and destroy one's ability to finish anything of importance. If you're a moody, introspective person like I was, they can make you depressed and suicidal. If you're a supremely confident person, they can make you more self-centered and manipulative. Drugs mess with the mind and lock people apart in a way booze never did, for me anyway.
What grieves me most is I thought we already learned the early hard lessons about recreational drugs 30-40 years ago, but today the same mistakes are being repeated on an even larger scale by newer generations. My oldest child has lost 2 classmates to opioid overdoses; a third classmate who'd been on ADD medication since his early teens lost his ability to cope by his mid-20's, and committed suicide by taking an entire bottle at once. And these drugs were all legal and prescribed by a doctor. It feels like a slow march since the Sixties from a giggly innocence with that first puff to something more hardcore and callous today.
---
Makow response- Thanks, David. I don't think marijuana should be equated with opioids. If anything I think marijuana will replace a lot of prescription drugs, and be far more salutary.
Anonymous writes:
I watched my older brothers get into weed back in the 60s and it seemed to zap incentive out of them. Though they have been active in life, one is in a sports hall of fame and the other worked as a musician in Hollywood and with very well known rock bands. Nevertheless I feel their usage has curtailed their potentials, they could have reached higher.
My youngest brother is another story. At 19 he started using and his personality flipped upside down in only one week's time. He went from a youthful college student, popular in his church and doing well in academics to a couch potato i this one week. He flunked out of college and stopped going to church. He got his girlfriend pregnant and they married into what because of a sour relationship. When I'd come to visit he'd be so high that he couldn't speak. I feel that weed ruined his life.
He had a job that he did well at as a welder and became a factory foreman. But he eventually turned to meth and was fired from his job because he'd show up to work when he felt like it. One night he was delivering meth to a customer and he was killed by a drunk driver at age 40. The autopsy showed him high on meth when he was killed.
My eldest brother is now 73 years old and he still uses marijuana daily. He's a nice guy and his nieces and nephews love him. But he developed a strange illness of vomiting to dehydration and having to go to the ER. These developed into 2 day stays in the hospital every 2 months or so for over 5 years.
The doctors didn't know what was causing his condition. They removed his gallbladder, they treated him for parasites and I don't know what else the tried to alleviate his condition.
I was reading some medical articles and the symptoms described in one where exactly that of my brother. The disease is called
Cannabinoid Hyperemesis syndrome.
I told him about it and he started cutting back on weed and his condition has improved to the point that he hasn't been back to the ER in 2 years, though he had a few close calls.
I personally never used any sort of drug. It never held any attraction for me.