Valentine's Day: Cabalists Poisoned the Well of Love
February 14, 2021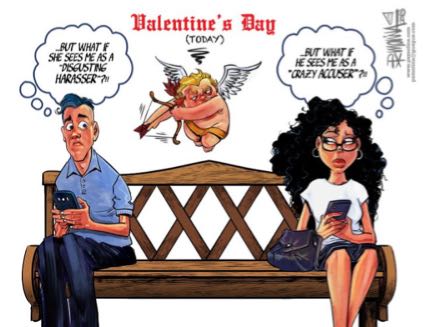 Sober Second Thoughts for Valentine's Day
The wellspring of love is woman who generates love by sacrificing for husband and children and is cherished in return. The Cabalists have poisoned this well by teaching women to be selfish and to seek power and sex instead of love.
by Henry Makow PhD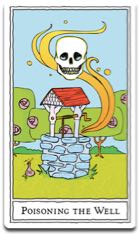 Communist social engineers are responsible for creating a toxic environment for marriage: Promotion of gender confusion and homosexuality; the war on gender itself (feminist usurpation of masculine role); the mainstreaming of promiscuity ("sexual liberation" pornography); and the promotion of transgender rights, as if 99.9% have no rights.
2. Communism is Cabalism which is a Jewish satanic cult which includes Freemasonry. It denies the existence of God and the soul. It destroys love because God is Love.
The wellspring of love is woman who generates love by sacrificing for husband and children and is cherished in return. The Cabalists have poisoned this well by teaching women to be selfish and to seek power and sex instead of love.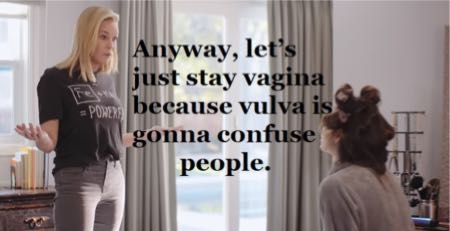 (Complete with typo. In a more civilized day, women didn't talk about their cunts.)
Woman's attraction for men is based on her beauty, innocence and modesty.
The modern woman is now a "proud slut" that few men want.
For example, actress Jessica Biel
"has produced a series of quirky videos
tackling tricky sexual health issues. In one, ( above left) the actress jokes about her genitals with Chelsea Handler after the comedienne walks in on her inspecting her genitals." ("Jessica Biel teaching tot sex ed, "
Winnipeg Sun
, Feb 9, p 55.) Where before a man had to court a woman and earn her trust, now she flaunts her wares like a streetwalker.
Another example of how messed up young women are: A female gymnast abused by the team doctor thinks appearing nude in Sports Illustrated
is "empowering" and somehow restores her virtue.
4. "We" are prisoners in the bodies of apes. Procreation is the most powerful instinct for these apes. The m
ale ape is sexually attracted to almost every comely fertile female ape. His interest lies in inseminating this female and usually ends there. Don't blame the ape- that's the way nature made him.
Forcing marriage on these apes was a way of making them treat the woman as a human being not just a sex object. It was a way of providing a healthy environment for children. But now, women have largely accepted this denigration. Otherwise, they would insist on courtship and marriage for sex.
5. By succumbing to our natural instincts, we are prisoners of our ape-selves. What passes for "love" is usually sexual attraction. The novelty wears off and you're left with the person. Build marriage on a more substantial foundation: Mutual Dependence. L
ist your needs and your potential mate's needs. M
utual dependence, along with
c
ommon goals, respect, trust, affection, are a more realistic basis for a long-term union than infatuation.
6. As far a sex appeal goes, women have a fast depreciating asset that they want to exchange for long-term emotional and financial security. Far from "empowering" them, women have been tricked into surrendering their power (by giving away sex.)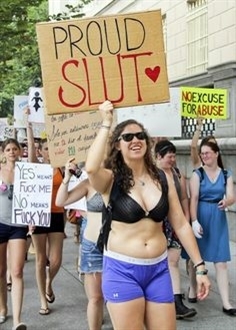 WE LIVE VICARIOUSLY IN AN ILLUSION- THIS IS CABALISM
7. We get most of our ideas about life from Hollywood but reality is nothing like the movies. Screenwriter Ben Hect described his work as "telling lies about life." For example, r
omantic love is an illusion, a sublimation of a religious need. We are in love with God (perfection) but idealize sex instead. The Illuminati (satanist) media made young women into false idols. In a sense, we're going to the opposite extreme. Women now have been thoroughly demystified and many have become the object of contempt.
In general,
Hollywood has also created the illusion that people are more interesting than we really are. We'd all be more interesting if someone were writing our lines. I think most people put on a good front but we're all pretty scared.
Are we worthy of love? Are we even lovable? Love us out of compassion: We all have to navigate through this deceitful, bizarre world, struggle to support ourselves and our families, and then witness our own decline and death.
8. Under the Christian dispensation, society was at least nominally dedicated to taming the beast and aspiring to spiritual ideals like Truth, Goodness, Love, Beauty, and Justice.
Now under the Communist (Satanist) dispensation, culture is devoted to releasing the beast and negating these ideals. Our
toxic cult-ure is defined by the Illuminati. Our attitude to homosexuality has gone from a visceral disgust to schools prompting children to experiment with it. Our cities are "cold and forlorn" to use the approving words of the
Protocols of Zion
.
Reality is Morality, not the school for scoundrels that our cult-ure defines us as.
We desperately need to replenish the well with fresh, clean water. We need to reassert genuine Christian values: the idea that we are all one Divine soul, looking out through many eyes, one family bound by God's Love and benevolent Purpose.
-----------