Dumping My Dream Girl
June 27, 2019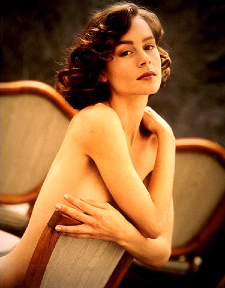 (I had just seen the movie, "The Gingerbread Man." The girl in my dream looked like actress Embeth Davidtz (left.)
My biggest regret in life is loving women. Romantic love is a delusion mostly
based on sexual attraction. Most people, men or women, are not that loveable.
We get our ideas about life from Hollywood. Movies program us to seek
romantic love above all else. Sex is a "mystical experience," the best life offers.
Cabalists (Satanists) created romantic love as an ersatz religion, to teach us to seek
ourselves in another person instead of in pleasing God.

Revised from Feb 8, 2011
by Henry Makow PhD I am proud of
a dream I recently had.
I was young again and single. My beautiful girlfriend and I were shopping. I suggested we go back to my apartment. I was feeling loving and wanted to hang out and cuddle. Just be happy together. Sex wasn't an issue.
Shortly after arriving, she says she has to leave.
Thwarted in love. Again.
In the dream, I press her for an explanation. She doesn't have one.
She doesn't want to be with me. I grant her wish. I tell her I'm not interested in games. We're finished. The End. Don't come back.
I wake up and am pleased by my subconscious action.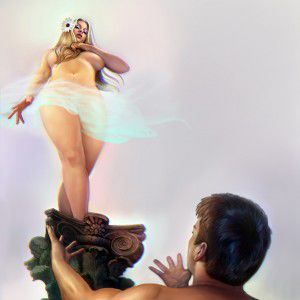 You see, when I was young, I endured
all kinds of misery
from my infatuations, patiently overcoming each obstacle thrown in my way. I was the poster child for "needy."
In one instance, a woman who looked like Embeth (
above
) said she found me "repulsive." If ever there was a cue to tell a woman to f**k off and get out, this was it.
Instead, I ignored the comment and patiently persevered. We ended up living together for almost five years. I could fill another book (in addition to
"A Long Way to Go for a Date"
) with what I endured. Obviously, I was immature and largely responsible for my fate.
I'm 69 now and no longer a player. I've been happily married for 18 years. I only wish I had awakened from this dream sooner.
MATRIX
We talk about being "programmed" by the mass media. Men are receiving
the biggest programming of all
: the notion that sex and "love" are the key to happiness. We need a woman's love to develop as men. We need to sexually satisfy a woman to prove our masculinity.
We are programmed to seek feminine approval when
our own approval is all that matters.
This programming is intensifying. Every time I watch TV, I see dominant women paired with feminized men who are trying to impress the women.
Anyway, I've been there, done that. I have satisfied a few women countless times and I have been satisfied as well. I've matured in the prescribed way.
But I wish I had found a shortcut and
downgraded the role of women and sex to its real level of importance,
say from 75% to 20%.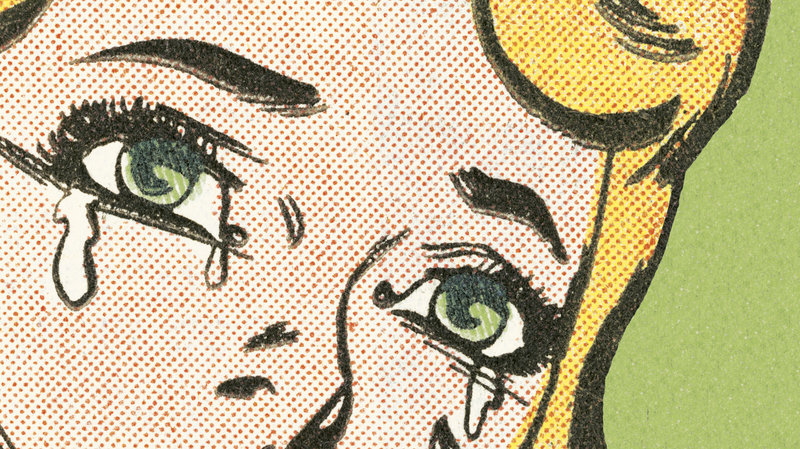 I wish I hadn't loved them.
Looking back, none was worth it. I have wasted
half my life
.
Young women are
not all that.
They are presented as demi-gods by our mental programmers. The mystification of beautiful women, like everything else, is the result of removing God from our lives. As Oscar Wilde said, "women are sphinxes without secrets."
Women are
intended to be helpmates, not soul mates.
If you can find a soul mate, I salute you.
I'm the biggest defender of heterosexuality, marriage and family. I assume others are more adept than I have been.
CONCLUSION
Am I bitter? Yes. I am bitter for all the ways my culture has lied to me. Here, I blame Illuminist brainwashing that elevates sexual "relationships" to the negation of everything else. And I blame myself for falling for this garbage.
The average man spends 75% of his energy on it. Many men are ruined by divorce. What if men spent this energy elsewhere? On our work? Our Enlightenment? Our music, hobbies or sports? Our politics?
The social pressure to conform, to seek "a relationship" is overwhelming, (which proves what I am saying.)
Perhaps the real takeaway is this:
Men should never look to women to give them self-confidence. If I had had more self-respect when I was younger and behaved accordingly, perhaps I would have awakened from this sleep much earlier.
---------------------------------
First Comment by Alan:
Your latest expose on the above-subject completely nails it. I share your insights on the matter, for they are so, so true. The point of the time, effort, energy & money I have personally spent on the individual pursuit of happiness through relations with the opposite sex is well, unfathomable in retrospect.
Needless to say Henry, another great article for articulating what I, unwilling to admit, are experiences I did not want to contemplate. Every normal male, as you stated, at the end of the day needs approval from themselves. Period.
JH writes

Henry, this is just great, great thinking and writing. I had to write and say so.
I wish every male, young and old, could read it 100 times.
It takes that much and more -- the "programming" has been so protracted and severe......who among us has escaped it?